5 Hottest new Google Nexus 4 accessories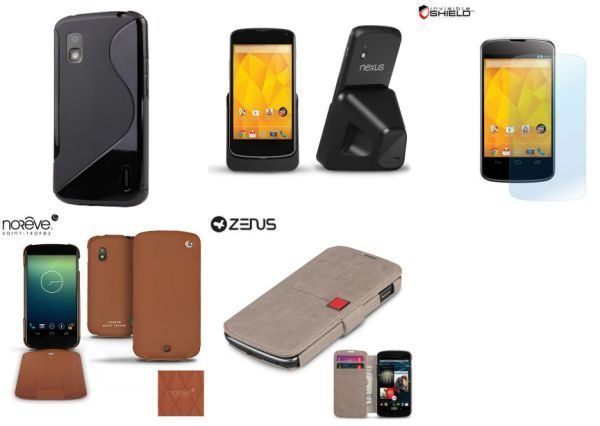 Good afternoon! It's a warm and sunny day where we are today; I hope things are just as pleasant where you are. Today, we'll be looking at five of the best accessories for the Nexus 4 to be recently released. Let's get right into our selections.
5. Flexishield S-Line Case
We start with this inexpensive TPU Nexus 4 case, the Flexishield S-Line. This is a good case to pick if you want something to protect the vulnerable edges and back of your Nexus 4, without adding plenty of bulk or spending a lot of money. The design is simple, with an S line dividing two materials on the back, and the case is available in two colours: red and black.
4. InvisibleSHIELD Screen Protector
Here's another low cost way to protect your Nexus 4's display – carefully apply a screen protector! This one from InvisibleSHIELD ticks all the boxes, as it is made to measure for the Nexus 4 and can be removed easily without leaving a sticky residue. A screen protector is always a good idea, and should only really be avoided if you are using a flip case, which also protects the screen.
3. Zenus Masstige Color Edge Diary Case
This is a much fancier option than the previous one, with a really nice supply handcrafted leather construction in brown or beige. The case has a rugged design that should keep the Nexus 4 safe, but it is a bit bulky. The case does include one standout feature: integrated pockets for cash and credit that'll obviate the need for a separate wallet.
2. SmartSync Desktop Charging Dock
This charging dock is a nice addition to your desk, and will keep the Nexus 4's middling battery fully topped up. The dock is in a portrait orientation, making this Nexus 4 desk stand more useful for reading incoming messages and surfing the web than watching movies. Still, with a sleek design and low price compared to wireless chargers, this is a great pickup.
1. Noreve Tradition Case
Of all the cases on this list, this one is my favourite. It's a beautiful leather case, available in brown and black, with a minimal flip design that looks great. The Tropézien-made case, with its classical materials and clever design, is definitely one that will be noticed.

Conclusion
I hope you found these Nexus 4 accessory selections useful! If you have questions about any of them, please feel free to ask in the comments below. Thanks for reading the article and have a sunny day!