Oppo R809T now becomes official, not quite record slimness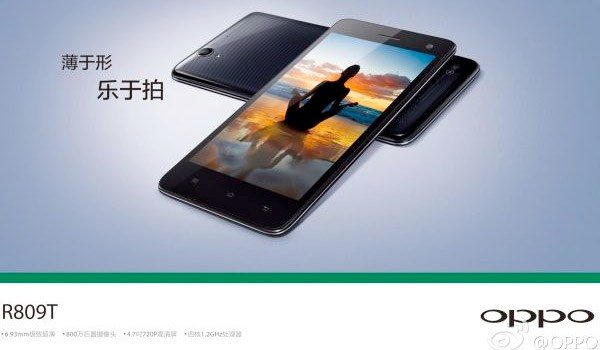 Regular readers may remember that a few weeks ago we wrote about the Oppo R809T, which at the time was touted as being the world's thinnest smartphone. The phone has now been officially announced but doesn't achieve the record slimness first thought. However that may not bother too many potential customers, as it's still a very decent handset.
Rather than the 6.13mm thickness that was first reported the Oppo R809T actually turns out to be 6.93mm thick/thin so it's still a beautifully slim device. It doesn't quite match the 6.45mm thickness of the Alcatel One Touch Idol Ultra though. As far as specs go Oppo has announced that it will be powered by a 1.2GHz quad-core processor (previously rumored as the MediaTek MT6589).
Other specs include a 4.7-inch 720p display, 1GB of RAM, an 8-megapixel rear camera and 2-megapixel front facer. Rather pleasingly the Oppo R809T is said to be releasing with the latest version of Android Jelly Bean, 4.2 and this is something that will please many buyers. As you can see from the image above this is a beautifully stylish and sleek looking device.
Previously we told how the price of this smartphone is expected to be around 2500 yuan ($403) off contract but this is not yet confirmed. The phone will be released in China first but other regions have not yet been detailed.
We're interested to know what you think about the Oppo R809T. Are you attracted by the design of this smartphone? Does it really matter that it doesn't live up to the title of "world's thinnest?" Let us have your comments on this.
Source: Sina Weibo Via: Unwired View