Nokia Lumia 920 case accessory with 12x optical zoom for PureView camera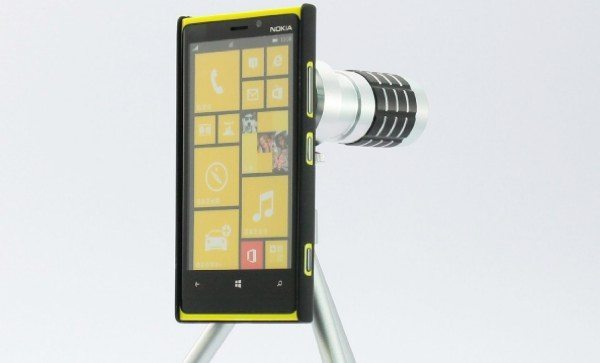 We try to keep readers informed about new useful accessories and today we want to tell you about a Nokia Lumia 920 PureView camera case accessory that's rather unusual as it also offers 12x optical zoom. It comes at an affordable price and for those who often use their smartphone camera it could be a good choice.
The Nokia Lumia 920 has a PureView Phase II 8-megapixel camera but you can really up the ante by having a 12x telephoto lens to hand. This case accessory not only offers protection for your device but it even has a miniature tripod to keep things steady. Users simply need to pop the Lumia 920 into the protective case and then screw the lens in and it's really as simple as that.
No tools or special apps are necessary and it also has an adjustable focal point from 3M that is enabled by turning the front lens element light. The 12x Telephoto Lens with Tripod, Universal Holder and Protective Case has a price tag of $31.99, which seems reasonable to us considering its uniqueness.
The accessory has an aluminum shell with optical glass elements and the total package includes 12x telephoto lens, mini tripod, plastic case, holder, pouch, cleaning cloth, lens cap and manual. This Nokia Lumia 920 accessory is available from Amazon here.
We'd love to know what you think of this nifty accessory for the Lumia 920? Why not send us your comments to let us know if you'll be purchasing it.