5 Best iPad Mini case picks from Proporta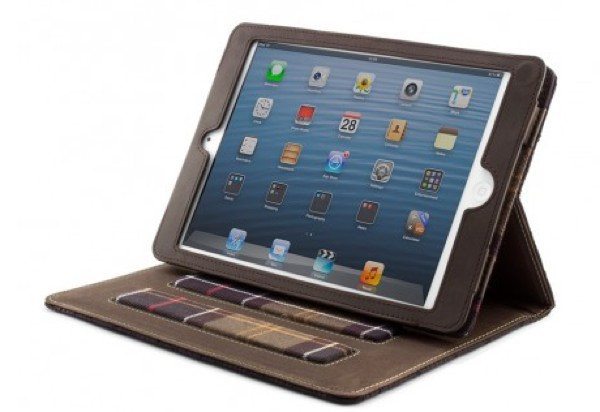 From time to time we like to bring information about some of the best accessories on the market and today we have some best iPad Mini case picks from Proporta to offer both style and protection for your new smartphone. The Apple iPad mini is an impressive tablet and so it makes sense to match it with an impressive case so let's take a look at what's available for this popular device.
Proporta offers a great selection of cases for the iPad mini and we've picked our top choices. Simply click on the following title links of each case to find out more or to order. One of our favourites is the Barbour iPad mini Case — Quilted. This one is not cheap at £54.95 but does offer a real touch of British style, taking its design from the traditional Barbour quilted jacket. It has a soft, quilted exterior with Barbour logo and tartan interior lining and it can also be use as a dual-angle stand. The quilted cover also allows easy access to all ports and functions and it comes in three colour options, black, navy or olive. You can see an image of this Barbour case below this story.
Another of our top iPad mini case picks is the Ted Baker iPad mini Case — Leather Style Women's and the price of this one is £44.95. It comes in either black or white faux croc and features the Ted Baker London logo. Again the case offers access to all ports and functions of the tablet. (The Leather Style Men's version of this case is also available at the same price in black, brown, grey or navy).
Another excellent pick is the iPad mini Case — Leather Style with Aluminium Lining. This is made from quality soft to the touch faux-leather and at the same time offers durability and tough protection for your device. It's hand-crafted with intricate stitching, has a handy pocket and a pinstripe interior and as with the other cases you don't need to take your iPad mini out of the case for access to all ports and function buttons. This one is priced at £29.95.
Moving on to a case that stands out with a real touch of English flair we have the Ted Baker iPad mini Case — High Summer 2013 — Tootey. The price is £34.95 and it features the iconic London Black Cab although in this instance the cabs pictured are in various colours. It has a luxurious soft finish and offers the usual access to ports and functions.
Finally we have the very useful iPad mini Case — Swivel 360. This one give access to ports and functions and is made from high-quality faux-leather to protect your device, with a soft grey microfibre lining. The clever aspect of this case is that you can enjoy all views of your iPad mini as it has a swivel stand mechanism so that you can use it in landscape or portrait mode.
All of the above cases come with a lifetime exchange warranty. That completes our lineup of the best iPad mini Proporta cases and hopefully you've found at least one that will suit you. We'd like to know if you decide to buy one of these cases so do send us your comments.