BlackBerry Q10 latest release and price news for the US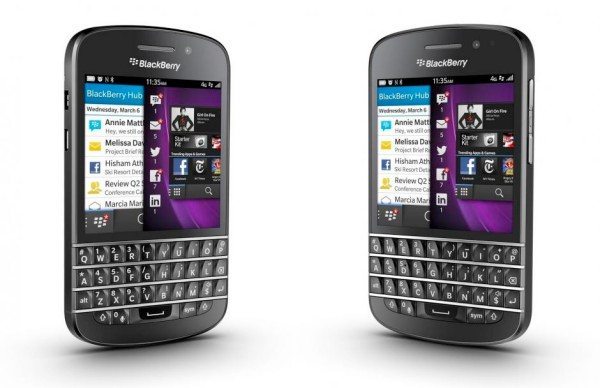 The BlackBerry Q10 smartphone running the new BlackBerry 10 operating system has recently released in the UK but those in the US are still waiting for this device. We had previously heard that all four of the major US carriers, Verizon, AT&T, T-Mobile and Sprint, were to carry the Q10 and now three of those carriers have given a little more detail. Read on for the latest release and price news for the BlackBerry Q10 in the US.
The BlackBerry Q10 is the first of the new BB10 devices with a QWERTY keyboard and was always likely to make a big impression because of this. It has been selling well in the UK and is also likely to make a big impact when it eventually launches stateside. We wish we could fill in all the blanks for you on specific release dates and pricing for the BlackBerry Q10 in the US but alas not all of the carriers concerned have given full details yet. Nevertheless we'll let you know what we've heard so far.
It was originally reported that the Q10 would go on sale in the US by the end of May but it looks as though that's going to be missed by a bit, unless AT&T suddenly decides to chip in with some news. Of the carriers that have provided some details we'll start with Verizon and the giant carrier has given the month of June as a release timeframe although no precise date. Big Red has not yet given a price for the BlackBerry Q10 but will be offering the BlackBerry Q10 in the white version as an exclusive.
Moving on to T-Mobile, this carrier is also rather vague on its release of the BlackBerry Q10 other than mentioning it also anticipates stock arriving in June. T-Mobile has given a price for the Q1 though and it will be $99.99 straight off and then payments of $20 for 24 months. If you want to purchase the phone outright it will set you back $57
Sprint is the most vague of them all (if you don't count AT&T who have said nothing!) and has merely cited a BlackBerry Q10 release timeframe of late summer. Nothing more than that and no pricing either but it does look as though if you're a Sprint customer who wants the Q10 you'll have to wait longer than Verizon and T-Mobile customers.
That's all of the latest so far but of course we'll give you firmer details as each carrier announces more information. While we wait we'd be interested to receive your comments about the BlackBerry Q10 for the US. Are you waiting for this device? What appeals to you most about the Q10 and why have you chosen the BlackBerry platform over a device on any other platform?
Source: Unwired View