iOS 7 vs iOS 6: Safari review on iPhone 5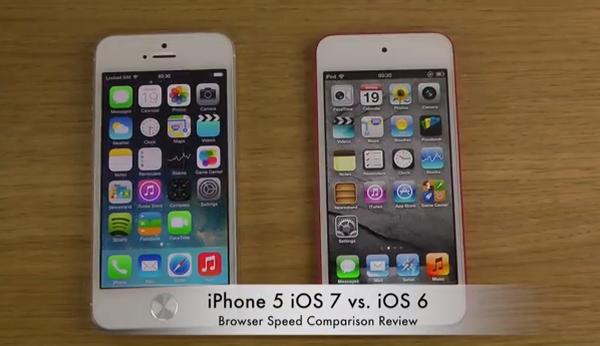 It has been almost two weeks now since Apple revealed its new mobile operating system iOS 7 to the world with a release expected later in the autumn. Since then we have seen a number of different comparisons with the software and today we have iOS 7 vs iOS 6 with Safari running on the iPhone 5.
Apple has made some big changes to the user interface of Safari with a nice clean look when compared to the older version of the browser, and at the bottom of Safari you still get the same buttons but they have been made a little different.
With iOS 7 on the iPhone 5 there is now the option of a private area as well as an all new tab system that seems to borrow some ideas from Google Chrome, and in use the browser continues the Safari trend of rearranging everything pretty quick with no lag.
Certain things do seem to load up a little quicker on the iOS 6 version of Safari but it has to be remembered this is still a beta and not a final version of the firmware so minor glitches can only be expected.
The reading mode can still be found in the iOS 7 version but now has the options bar at the bottom of the page so opening up other tabs will be easier, but it doesn't seem possible to be able to change the text size now.
We won't spoil all of the video for you that can be seen below and is almost 12 minutes long and you can see all of our other comparisons and reports on iOS 7 here.
Do you like what you have seen of iOS 7 so far?