The Tile app, 7 days left and limited price offer
The Tile app started as a self starter campaign, which now only has 7 days left until it ends, so far this campaign has had 19,578 backers and raised a massive $1,050,862 of a $20,000 goal with 5254% backed. The good news is that you can preorder 'The Tile App' device for only $18.95 for a limited time.
Are you prone to losing or misplacing your expensive devices or even your purse/wallet? If the answer is yes then you will love the new Apple icon-like Tile, this little matchbook-sized Bluetooth Low Energy device can be attached to any product of your choice like those mentioned above and much more no matter how big or small, and with an accompanying iOS app you can locate the product.
The Tile is one of the best little devices we have seen that not only looks great, but it is highly practical when using. Similar devices only have a range of around 100 feet but the Tile goes way beyond that thanks to Bluetooth connection via iPhones running the Tile app to show a wider net search.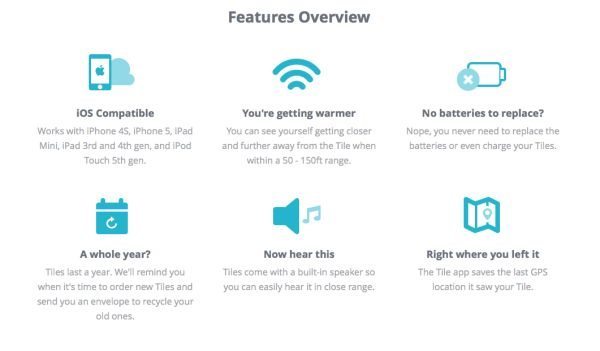 All you need to do is attach, stick or drop your Tile into any item and your lost or misplaced product will always be found with ease, you can add up to 10 Tiles on an account, share access to Tiles with friends, family etc and even get a sound alert if triggered.
No batteries are required for the Tile, after one year of using the Tile you will be reminded to purchase a new one and recycle your old one.
Main Title features include manage multiple Tiles on the Tile app, see how far you are away from your lost item that you placed the Tile on within up to 150 feet radius. If the Tile is out of the Bluetooth range, do not worry because you can use the Tile app's Last Place Seen feature, the tiles are secure and only you can see where your own Tiles are.
You can login to friends Tile app to find your lost Tile as well if you do not have your iPhone or iPad with you.
Tile Prices on the Campaign Page
1 Tile is $18.95, when you purchase 3 Tiles or $56.85 you will get one free, $113.70 will get you 8 Tiles in total, and 9 Tiles + 3 Bonus Tiles will cost $170.55.
For more information please do visit thetileapp.com, we have also added a video below of the Tile being used.