Galaxy S4 Android 4.3 vs iPhone 5 iOS 7 Beta 3 speed tests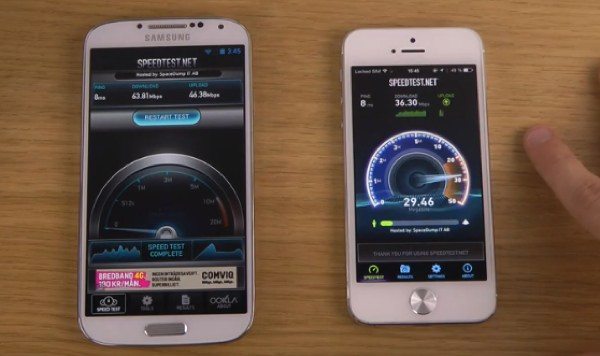 There's always a lot of excitement in the mobile device world when upgraded operating systems are on the way. Both the Google Android and Apple iOS platforms currently have updates in development, Android 4.3 Jellly Bean and iOS 7 respectively. Today we want to look at some Galaxy S4 Android 4.3 vs. iPhone 5 iOS 7 Beta 3 speed tests.
We've been giving readers plenty of information on these two upcoming operating system upgrades so feel free to check out more on Android 4.3 Jelly Bean and iOS 7 at the links. We don't think it will be too much longer until Android 4.3 makes a public release, as it is already available for developer editions of some phones. iOS 7 on the other hand, is due in fall and the iPhone 5S is very likely to release running it.
We have two YouTube videos to show you that give an idea of speed performances of Android 4.3 and iOS 7 beta 3. The first is a 5-minute showing of the Galaxy S4 with Android 4.3 and the iPhone 5 on iOS 7 beta 3 in an Internet speed test comparison. Before the Speedtest it's expected that the speeds of both will be pretty similar but in the download and upload speed tests the Galaxy S4 on Android 4.3 comes out top. However, we should point out that iOS 7 is still in the beta stages, so you might want to take that into consideration.
The next video is an 11-minute look at the Galaxy S4 with Android 4.3 against the iPhone 5 with iOS 7 beta 3 in a browser speed comparison performance review. It looks at some of the latest additions to iOS 7 before going on to show the Google Chrome and Safari browsers in some detail. The video goes on to compare the performances with most things seeming to load slightly faster on the iPhone 5.
For the full demonstrations and conclusions you can see both of the videos below this story. Are you eagerly waiting for Android 4.3 Jelly Bean or iOS 7? Let us know with your comments.