Xperia Z vs HTC One vs iPhone 5 iOS 7 gaming performance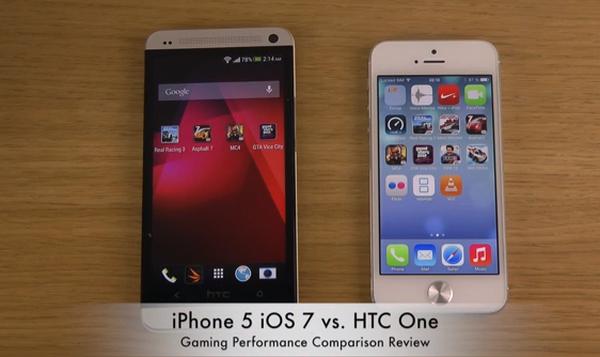 Mobile gaming is big business now that many people own powerful smartphones that have better processors and displays, and for many now there is no need to purchase a dedicated gaming device. Today we are looking at the Sony Xperia Z vs. HTC One vs. iPhone 5 with iOS 7 and the gaming performance of the handsets.
We have had a number of comparisons now with various models of the iPhone running iOS 7, and these can be found via the link, but today we have a couple of new videos that have the iPhone 5 going up against a couple of rival handsets while running some games.
The first video is over 21 minutes long that is looking at the HTC One against the iPhone 5 and starts with the Real Racing 3 title, and the game loads up slightly quicker on the HTC One. The bigger display of the HTC obviously helps make the game look better even though the reviewer mistakenly says its 5-inch when in fact it is 4.7-inch.
The sound on the HTC One with its twin forward facing speakers was also found to be better, and the video then goes on to compare Modern Combat 4. This time the iPhone 5 loads up a little quicker than the HTC One with the display also being a little brighter.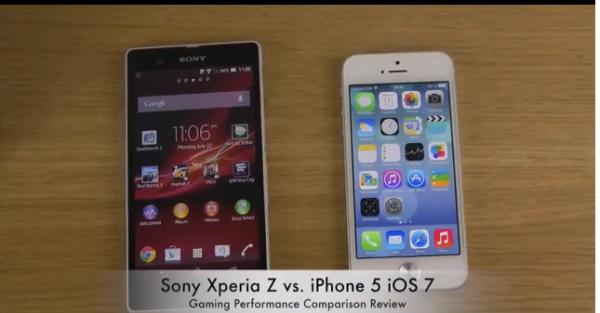 Again the sound quality coming from the HTC was far superior to the iPhone 5 but the frame rate is a little slower than the iPhone, but the bigger display arguably makes up for this. Check out the rest of the video that also looks at some other titles that include Grand Theft Auto.
The next video we have for you is looking at the Sony Xperia Z against the iPhone 5 with this one almost 18 minutes long, and again kicks off with Real Racing 3. The viewing angles on the Sony weren't found to be perfect and you have to watch how you hold the device or you will cover the speaker up.
On the iPhone 5 it seems the game runs more smoothly as developers can spend more time optimizing the game for that device, plus the viewing angles are better. The video then continues to compare some more games so we won't spoil the results for you.
Do you use your smartphone for a lot of gaming?