iPhone 6, 5S release date desired together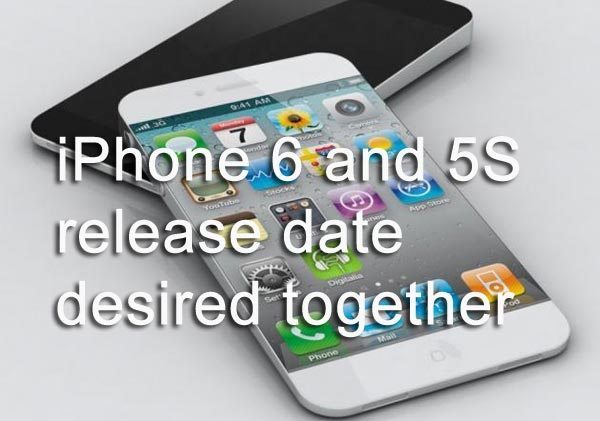 Most technology blogs are predicting this year will bring an iPhone 5S release date around September, although in their opinion this date will be joined by a plastic iPhone 5 as well. This really doesn't make sense if Apple want so launch two handsets with clear naming differences, so an iPhone 6 and iPhone 5S both seeing a release date in September might be a more logical conclusion.
Will Apple keep selling the iPhone 5, or launch a new iPhone 6 and 5S? If the plastic iPhone 5 rumors are correct, then it wouldn't make sense for Apple to sell the current model with a new iPhone 5S and plastic version. We have already seen that Apple is prepared to discontinue an iPad just a few months after launching it, and this happened with the iPad 3 when the 4th generation released just a few months later.
The same could happen for the current iPhone 5 this year, and weight is added to this line of thought if we see two new models at the September event.
An iPhone 6 true upgrade with plastic iPhone 5S — we really want to see both these handsets on the same release date this year, and if this happened then it wouldn't be a bad thing to discontinue all the previous iPhone models.
Only a few days ago we looked at the possibility of an iPhone 6 and iPad mini 2 seeing exclusive iOS 7 features, which has been seen before when Siri was saved as a selling point for a new phone. There are a number of exclusive features possible with iPhone 6 and 5S, but what would you like to see other than a fingerprint reader?
The idea of an iPhone 6 and 5S on the same release date could be just what consumers want if it was planned correctly. There is a massive need by a growing number of iOS device owners right now, and this is one of change and the iPhone 6 could bring enough change with new innovative features to make both Android and iPhone owners want to upgrade to iPhone 6.
Apple's iPhone 5S would deliver a handset with lower specs and made of plastic, which could be at a price point to bring over Android users that want iOS but at a much cheaper price. You don't need to look far to see comments like, "an iPhone is way over priced for what you get, Apple need to launch a cheaper model".
Some Apple users state, "Android is starting to look like the way to go I loved my iPhone, but they are now getting left behind without Steve Jobs". This is not the feeling of the majority of Apple fans, although most people believe change is needed.
The iPhone 6 and 5S release date together to change everything – fans are split between a cheaper model being needed and one that makes some radical changes in design and innovative specs. With the iPhone 6 being the innovation and the iPhone 5S being the cheaper model, consumers could have the best of both worlds and Apple could push ahead into 2014.