Samsung Galaxy S4, Mega 6.3 Riptide GP2 gameplay review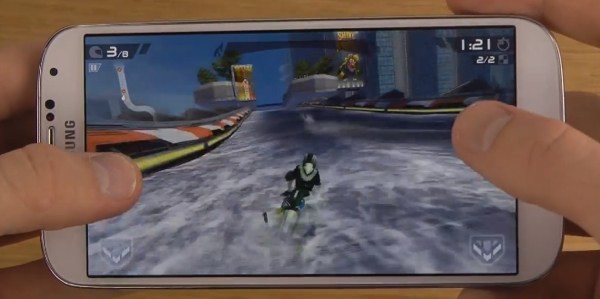 The Riptide GP2 app for Android released just two days ago on Google Play and is already receiving an extremely high rating from users. If you're wondering whether this gaming app is worth purchasing you might be interested in Samsung Galaxy S4 and Mega 6.3 Riptide GP2 gameplay reviews.
Riptide GP2 is a really exciting racing game with plenty of action to get you sucked right in. It features online multi-player races, improved graphics, a new career mode, and upgradeable hydro jets and riders, as well as a completely new stunt system with new tricks. Futuristic tracks offer a dynamic and fun experience with amazing visuals, and we think this game will appeal to many people.
We've embedded a couple of YouTube videos below showing gameplay from Riptide GP2. The first is a 5-minute look at the game on the Samsung Galaxy Mega 6.3 smartphone, which features a whopping 6.3-inch display. It takes a look at some of the settings, and once the game begins the improved graphics over the first version of the game are noted. Maps are described as "more exciting" and the game runs well on the mid-range device. This video gives you a good impression of what the game is all about.
The second video shows Riptide GP2 played on the Samsung Galaxy S4 running the upcoming Android 4.3 Jelly Bean OS. As the GS4 has a better processor than the Mega 6.3 we'd expect improved performance. The game is described as definitely "worth checking out" and we think once you've watched these videos you'll probably want to see it for yourself.
Riptide GP2 is now available at Google Play here priced at $2.99 /£1.99, and it's compatible with devices running Android 2.3 or later. We'd love to hear your verdicts of Riptide GP2, so if you download this app please do send us your comments and tell us what you think of the game.