Chromecast vs Airplay, and the winner is!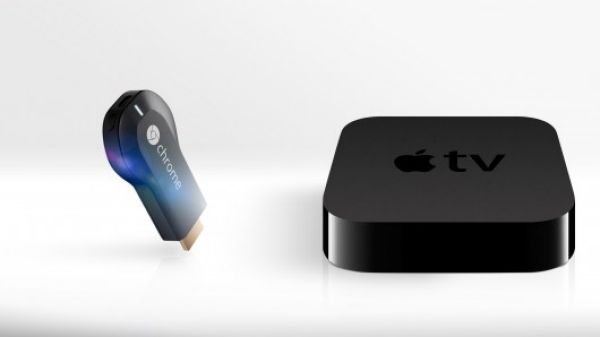 The new device everyone is calling groundbreaking is Google Chromecast, but how will this fair against Airplay using Apple TV! Lets take a quick look at the Chromecast vs Airplay — the winner is!
The Google Chromecast dongle is priced at just $35 and plugs into HDTV's HDMI port, which allows Android device users to stream content to the big screen. Some say that Chromecast is the Apple TV ($99) killer with a few saying you cannot compare these devices because they are different; but we say you can compare them because they both allow users to stream content.
Both devices need an HDMI port on a TV; both use WiFi connections to stream content from smartphones and tablets, however you can use Internet cable on the Apple TV rather than using WiFi. Apple TV features mirroring, which means whatever you see on your iOS device you can see on your TV, Google Chromecast for Android does not have this feature. To stream content to the big screen you need three devices, you need 1 x Apple TV, 1 x HDMI TV and 1 x iOS smart device, or you need the 1 x Chromecast dongle, 1 x HDMI TV and 1 x Android device.
Chromecast has its own male HDMI plug built-in, and as we know you need to use a HDMI cable from the Apple TV to the HD TV. We just wanted to keep this brief and not get into an in-depth comparison, The Verge has a great in-depth comparison and it is well worth taking a look.
Where the Chromecast will win hands down is when Google talks to TV manufactures so they can have built-in Chromecast into TV's. The odds of a TV with Apple TV are slim at the moment but we know Google has the power to succeed in this department.
Can you just imagine having a big Chromecast Google TV? The Apple TV does come with many more features than Chromecast, so we would have to say the Apple TV and AirPlay is better at the moment just because of the extra features. It is true what The Verge says "On paper, AirPlay still has the crown simply because it's been around so long and it's so well-supported, but Chromecast has a ton of promise."