Android Jelly Bean finally taking over ecosystem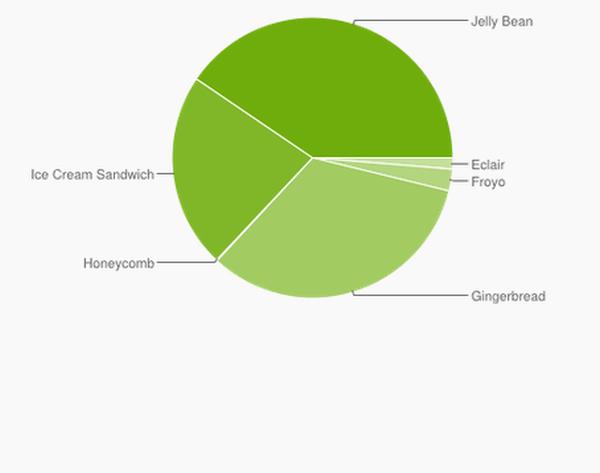 The Android platform always gets criticised for its fragmentation with lots of different versions of the operating system being used by end users, but finally it seems that Android Jelly Bean is finally taking over the Google mobile ecosystem.
Google releases figures each month that show what percentage of each version of the operating system is still being used out in the wild, and last month Jelly Bean finally overtook Android 2.3 Gingerbread as the leading version of the mobile firmware.
This month it has increased its lead further and now sits on 40.5 percent of Android devices while the 4.0, 4.1, and 4.2 versions accounting for 63 percent now. Obviously these figures have been calculated before the launch of Android 4.3 has taken hold, but Android 4.1 is the most common version of Jelly Bean being used on 34 percent of hardware.
Android 2.3 Gingerbread still accounts for 33 percent of devices so it will be a while yet before we will start to see it disappearing at a quicker rate, as some hardware is now stuck on this version of Android and users may not be ready to upgrade to something newer yet.
At the turn of the year the software was running on almost 50 percent of hardware that was used to connect to Google's servers, which is how the company comes up with these figures each month. These latest ones are based on the number of visits to the Google Play store for the last two weeks in July, and Ice Cream Sandwich is still present on 22.5 percent of hardware being used.
The likes of Android 2.1 Eclair on 2.1 percent and 2.2 Froyo on 2.5 percent are still hanging in there, but Android 1.6 Donut and 3.2 Honeycomb are almost non-existent now.
Which version of Android are you currently running?
Source: Google.