iPad mini 2 vs. Nexus 7 2 evolution misunderstood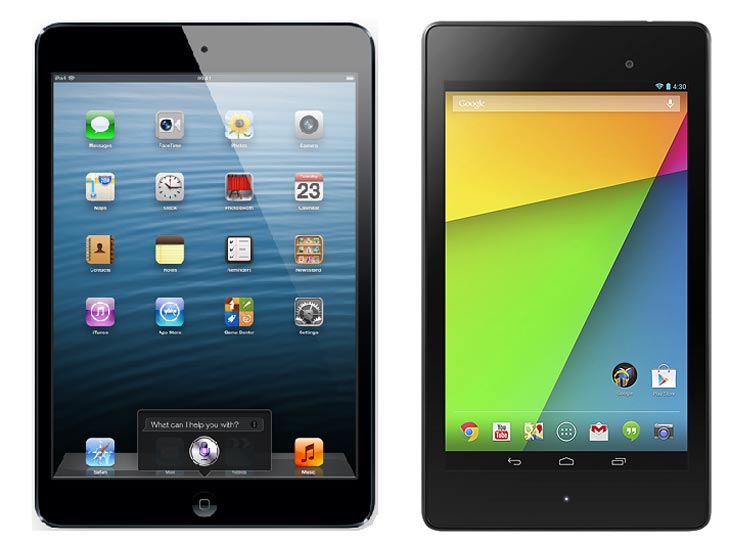 It is not possible to deliver a full iPad mini 2 vs. Nexus 7 2 review at this time thanks to Apple's 2nd generation tablet not being revealed, although you can pretty much count on it seeing a launch at some point towards the end of 2013. We have seen the full 2nd generation Nexus 7 specs, so it is possible to add these facts to continued rumor about certain iPad mini 2 features that paint a clear picture for the upgrades expected.
In this article though, we wanted to touch on something a few technology blogs and social media commenters are misunderstanding about the Nexus 7 upgrade and expected iPad mini 2 changes.
The Nexus 7 2 has taken an evolutionary step forward in terms of specs and was never going to take a radical design change. If you loved or hated the thinner display that looks more like a letterbox in landscape mode on the first generation, then the same feelings will be there for Nexus 7 2.
Those that love this design claim, "Nexus 7 feels more comfortable in your hand". Others that prefer the Apple iPad state, "big is best, I hate the thick bezel on Nexus 7 2 and expect iPad mini 2 to follow a similar design that's wider with a thin bezel".
You can see how very different the original iPad mini is vs. Nexus 7 2 in the image below this article. This clearly shows that both tablets are aiming for very different people, so the thinner display and thicker bezel paired with Android OS might not be for those that love the wider iPad mini 2 display with iOS 7 expected this year.
iPad mini 2 vs. Nexus 7 2 evolution misunderstood — the number of people complaining about the Nexus 7 2 design and even technology blogs repeating the same statements surprised us. Firstly, the Nexus 7 2 has jumped in specs and followed what users loved about it in the first generation. To expect a radical design change would not understand the evolution normally seen between models, and especially between the first and second-generation tablets.
People that are unhappy with some of the iPad mini 2 leaks also misunderstand what Apple is known for, plus what they should do with the iPad mini 2 design. The 2nd-gen iPad mini will include pretty much the same design, although it will include a bump in specs, maybe some exclusive new features and even a thinner bezel.
You will not see a radical change to the iPad mini 2 back, front or in fact any of the design. The first iPad mini got it right in so many ways, but if there were one feature users would want then this would be a Retina display on an iPad mini 2 with at least the same battery life. The problem Apple is working on will be including a Retina without dropping battery life, and this is why that feature missed inclusion in the first generation.
For a tablet screen width, what do you prefer between iPad mini and Nexus 7 2? Personally, we are happy to see the iPad mini 2 keep pretty much the same design but would love a Retina and some other bumps in specs to be included with battery life at least the same.