HTC One, Galaxy S4 GPE Android 4.3 update by OEMs
Google released Android 4.3 Jelly Bean to Nexus devices about a week ago and finally HTC and Samsung have caught up, today Google has released the new Android 4.3 update for the HTC One GPE and Samsung Galaxy S4 GPE (Google Play Edition).
Many Samsung users are still waiting on a new update to offer either 4.2.2 or 4.3 on their Galaxy S3 or Note 2, but guess the wait will have to carry on. It was a total shock that older devices such as the Galaxy S2 Plus getting its Android 4.2.2 update and the S3 and Note 2 still misses out. The AT&T Samsung Galaxy S3 only got 4.1.2, we just have this feeling the S3 and Note 2 will get Android 4.3 and skip 4.2.2 altogether, but we could be wrong.
Both the Galaxy S3 and Note 2 are great devices, and even though fairly old they still stand up against other phones with great features to boot. Samsung should really consider looking after the customers they have rather than keep releasing smartphones if they know they cant keep up with software updates, its madness.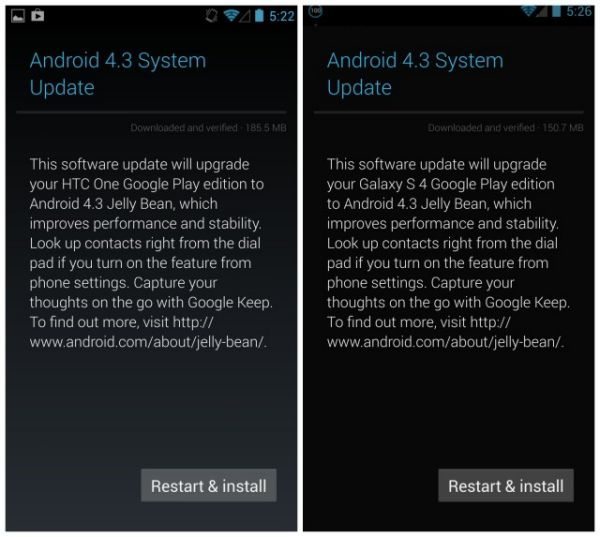 Anyway, back to the news at hand. Google has released the new Android 4.3 update for the HTC One and Samsung Galaxy S4 GPE, it seems they will release updates for Google Play Edition devices quicker than any other. Why is GPE devices getting preferential treatment and the likes of the S3 and Note 2 miss out? We will let you answer this one.
Android Police says the new 4.3 update for Google Play Edition HTC One and S4 in about 150MB in size and developed by OEMs, which means no carrier testing or modifications to the UI will get in the way.
There are a few changes with this update, offering custom changes such as support for Bluetooth tethering, larger icons on widget panels, grey background in settings menus which means the Samsung black background has been replaced, users will get to see small changes to the camera and interface.
Thanks to this update with Bluetooth Tethering surely users will be able to use the Samsung Galaxy Google Play Edition with Google Glass. You can get the Android 4.3 update right now OTA by going into Settings » About phone » System updates menu on your device.
Have you received the Android 4.3 update on your HTC One or Samsung Galaxy GPE handset yet?