5 iPad Mini accessories for the summer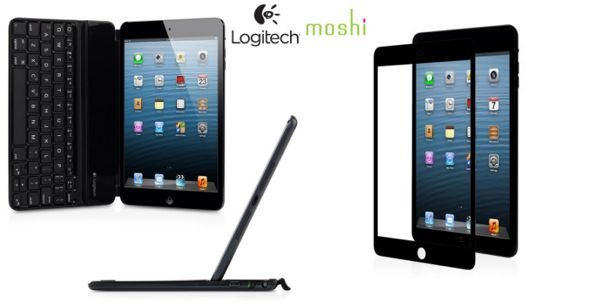 Today we would like to share with you our five iPad Mini accessories that are ideal for summer – whether you're going on a road trip or just want to sit outside in the sunshine, we're sure at least a couple of these will be great for you. Have a look at the selections!

5. Logitech Ultra Thin Bluetooth Keyboard Case
If you still have to write emails or other documents, then why not do it outside in the sun instead of inside on your PC? With the Logitech Ultra Thin Bluetooth Keyboard Case, you'll be able to write faster and more accurately than with the on-screen keyboard. You'll also save valuable screen space by not having the software keyboard up! This iPad Mini case is good quality too, with a strong stand that will keep your iPad Mini at a convenient angle while you're typing away.
4. Lightning 2.1 Amp Car Charger
Here's the first of a couple of accessories that are ideal for that road-trip. This car charger provides 2.1 Amps of power, enough to charge your iPad Mini at full speed – ensuring that even if it's playing a movie or being used as a GPS, you'll still be gaining battery power. The charger comes with a spare Lightning cable, so you can keep your original cable at home.

3. Arkon TAB3-RSHM Deluxe Universal Tablet Headrest Mount
If you've got kids or just bored teenagers in the back seat, there's nothing better than an in-car movie. With this headrest mount for the iPad Mini, you'll be able to keep the iPad Mini at an optimum viewing position for all backseat passengers without the need for a jury-rigged solution. The Headrest Mount is adjustable too, allowing it to fit other tablets if necessary, there are so many iPad Mini car holders to choose from and choosing is the hardest part.
2. Kubxlab Ampjacket Case
What's summer without some tunes? This Ampjacket case will turn the iPad Mini's rather anemic speaker into a powerhouse, without the need for batteries. That's down to its clever acoustic design, which can double the volume of your iPad Mini. It's ideal for parties, or just listening to some music in your back garden without the hassle of recharging a portable speaker. Of course, the case also provides great protection from drops and scratches and even serves as a stand.
1. Moshi iVisor Anti-Glare Screen Protector
If there's one thing common to summer, it's the sun. (Maybe not in England, but you get the idea). The Moshi iVisor is designed to ensure that the sun is nothing but good news, with strong anti-glare properties that will keep your display readable even in sunlight. The screen protector also adds impressive scratch and fingerprint protection. Finally, the screen protector can be washed and re-applied repeatedly, making this a long-term investment.
We hope you liked our five great iPad Mini accessories for the summer months! We hope you've found the selections useful, if you have any questions or comments or even would like to contribute a suggestion of your own, feel free to do so below. Please visit Mobile Fun where you can choose the perfect iPad mini case to suit your needs; all the products we have listed here can be purchased by searching over on Mobile Fun.