Windows Phone App Studio hopes to close iOS and Android gap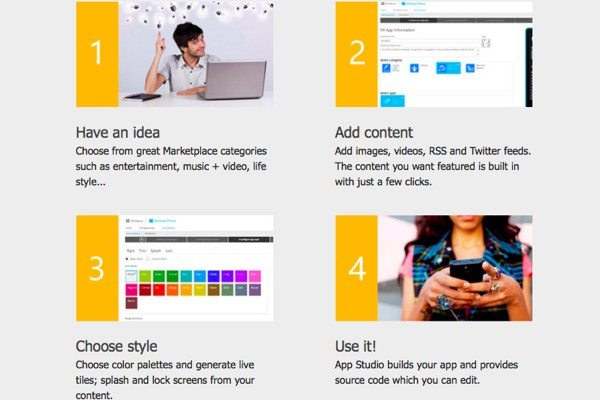 The market for mobile apps is now huge business, and today we're bringing you news of a Windows Phone development tool that is currently in beta. The Windows Phone App Studio hopes to close the iOS and Android gap that exists, and is aimed at non-programmers.
Windows Phone App Studio has been devised as a web-based app creation tool and Microsoft states that the free resource is "designed to help anyone quickly bring an idea to life" by using text, imagery, design concepts and web content in a variety of templates. The beta was rolled out yesterday and it sounds like an excellent aid for first-time programmers.
By seeking to make app creation accessible to more people, Microsoft hopes to expand the development of Windows Phone apps, which currently lag a long way behind iOS and Android apps in number. The idea is that users who are attracted by the idea of the App Studio tool simply need to set up a Microsoft account and then add content to one of the customizable templates available.
When the app is ready it can be downloaded to a user's own phone or the user can opt to share it by publishing it on the Windows Phone Store, although a Dev Center account is needed for this. Those who have a bit more experience in app creation can modify apps with the Visual Studio or Blend. The first beta has a limited amount of templates but this should be extended further at some point. Windows Phone Apps Studio is currently optimized for IE10.
Around 160,000 apps are presently available for Windows Phone devices and although that sounds like a huge amount, there's a long way to go before the gap will be bridged between the numbers of Windows Phone apps and those on the iOS and Android platforms. This certainly sounds like Microsoft is moving in the right direction though, and it will be interesting to see how much progress is made in reducing the disparity with the use of the Windows Phone App Studio.
To see further details of the Windows Phone App Studio head to the Windows Phone Developer Blog here where you'll learn more about the tool and can also see that the developer phone registration process has been simplified. We'd like to know what you think of this new Microsoft initiative, so do please send us your comments.