Rising Empires Beta epic 4x turn-based Android game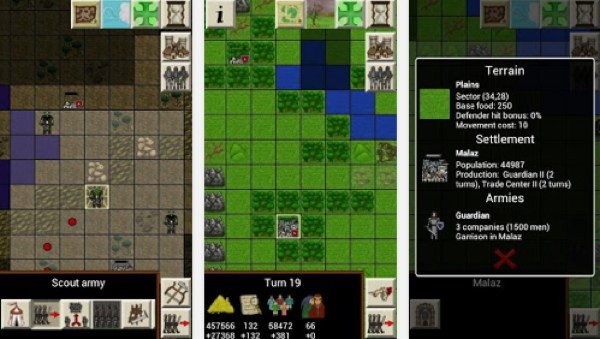 We enjoy bringing readers details of entertaining or useful apps, and today we want to give some information about the Rising Empires Beta, an epic 4x turn-based Android game. The beta of this game has just received an update, with the complete game due on September 21st. A larger update is also being worked on, that is due to release by the end of August and will have new features.
Rising Empires is a fantasy game on Google Play involving six races that are competing for control on the Surface and also in the Netherworld. The Surface level is the ancestral home to Elves and Humans, while bizarre creatures such as Ende, Greenskins, and Krant live in the caves below.
Features include unique abilities for the 6 different races, two levels that have cave openings for movement between the surface and subsurface, and the ability to design troop types and give them various suitable abilities. The game also has an advanced combat system and a well-developed technology tree, and players can expand by building settlements and fortifications.
This strategy game is being shaped during the beta testing and will receive more updates before the final game release. The latest update is minor and mostly contains bug fixes. When the complete game is launched it will be available as a free version with ads or a premium version that will offer additional content.
The Rising Empires Beta app from Hellhound Interactive is available free from Google Play here and is compatible with devices running Android 2.2 or later. At the moment it's receiving a pretty high user rating, so this might be a game you want check out. We'd be interested to hear your thoughts on Rising Empires, so please do send us your comments about the game.