White LG Optimus G Pro for AT&T on the way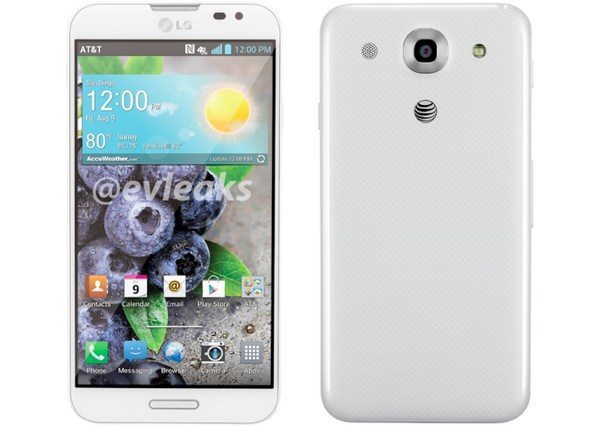 The LG Optimus G Pro is a smartphone with some very decent specs that released in April. AT&T has been carrying this phone in the US in the black color option, but it now appears that the white LG Optimus G Pro for AT&T is on the way.
This Android handset is a very impressive device, and the signs now look promising for those who were patiently hoping for the white version to come to AT&T. Evleaks has a very good reputation for authentic leaked images and has come up with an image of the white G Pro with AT&T branding.
No specific release date for the white option is available yet, but now that an image has leaked out, it might not be too far away. Presently AT&T is selling the black Optimus G Pro for $440 outright or $100 on contract, and we imagine the price for the white version will be the same, though this is not yet confirmed.
Specs of the LG Optimus G Pro include a 1.7GHz Snapdragon 600 quad-core procsor, 5.5-inch Full HD display with 401 ppi, 2GB of RAM and expandable storage. It also has a 13-megapixel rear camera, 2.1-megapixel front-facing shooter, LTE, a 3140 mAh battery, and it runs Android 4.1.2 Jelly Bean.
You can be sure that we'll be keeping our eyes open for more news on a release date of the white LG Optimus G Pro on AT&T. Have you been waiting for the Optimus G Pro in white?
Source: Evleaks (Twitter)