Micromax Canvas Doodle 2 phone specs go large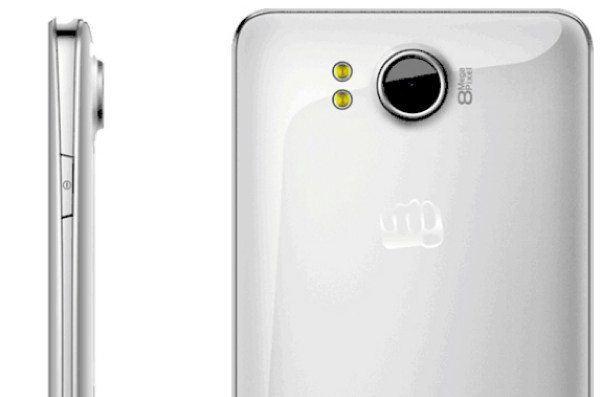 Micromax has been coming up with some very decent smartphones lately at competitive prices and today we want to talk about the upcoming Micromax Canvas Doodle 2. We have some details about this phablet-style handset, and from what we know so far the Micromax Canvas Doodle 2 phone specs are going large.
The original Micromax Canvas Doodle only released a few months ago and generated a lot of interest as it offered impressive specs at an affordable price. Now interest is already turning to the next-generation Canvas Doodle, and although the Canvas Doodle 2 phone hasn't yet been officially introduced there has been plenty of leaked information regarding specs and features.
The Canvas Doodle 2 is set to increase the display size from the 5.3-inches on the original Canvas Doodle, to around 5.5 to 6-inches on the next version. With the trend for phones with larger displays growing all the time, this move should go down well with potential buyers. Other specs rumoured for the Canvas Doodle 2 include a 1.2GHz quad-core processor, and it's rumoured to have 4GB of internal storage, expandable via microSD to 32GB.
The Canvas Doodle 2 is likely to have a 2100 mAh battery and run the Android 4.2 Jelly Bean operating system. It's also rumoured to have an 8-megapixel rear camera with LED flash, autofocus and smile and image detection, as well as a 2-megapixel front-facing camera. We certainly hope that RAM will be increased from the 512MB of the current Canvas Doodle to at least 1GB, and despite rumors of 4GB of internal storage, we would like to see at least 8GB offered.
The design is said to be loosely the same as the first Canvas Doodle, featuring thin bezels, rounded corners and made from plastic. The price of the Micromax Canvas Doodle 2 is expected to be about Rs. 14,000 to Rs. 15,000. Although a release date has not been made official for the Doodle 2, it may launch in the next month or so. We hope that Micromax will officially introduce the Canvas Doodle 2 soon, and of course we'll bring readers all of the confirmed details when that happens.
While we wait, we'd really like to hear from our many readers in India about this phone. Are you eager to hear more about the Micromax Canvas Doodle 2? What are your thoughts on a larger display and the other rumoured specs of this handset? We always appreciate comments from readers so do please send them to us.
Source: Know Your Mobile India