Nokia Lumia 1020 vs Motorola Moto X showcase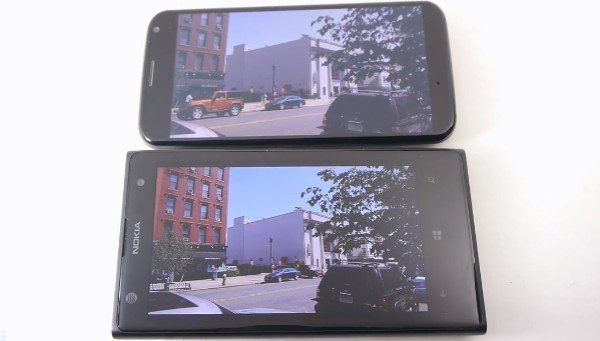 The Nokia Lumia 1020 and Motorola Moxo X smartphones are both grabbing their fair share of attention right now. The first is a Windows Phone handset while the latter runs Android, and both have a lot to offer. If you're considering purchasing either of these flagship phones then we have a Nokia Lumia 1020 vs. Motorola Moto X showcase for you, that will give you a good idea about both devices.
The Lumia 1020 released a few weeks ago, and the highlight of the phone is its impressive camera set-up. The Moto X is about to release on all four major US carriers, and even though it's not a phone with the highest specs it's still likely to be in high demand. The 11-minute YouTube video that you can see below this story gives the necessary details about both.
The video review begins by comparing the designs of both phones, with the Moto X described as compact and the Lumia 1020 deemed to be the more attractive. However, we always feel that this is very much down to personal preference, and you may well have a different view. Strangely enough, although it's not immediately noticeable the Moto X has the larger display even though it has a smaller form factor.
The video also gives a good close-up look at both handsets and goes on to look at various aspects of the phones, such as cameras, operating platforms and interfaces, and specs such as processors, storage and more. Voice quality is also discussed as well as features such as noise cancellation before prices are also mentioned.
In wrapping up, both the Lumia 1020 and Moto X are described as having plenty of qualities that make them memorable. If you're a fan of using your smartphone for photography then you may favor the Lumia 1020 as this is where it excels. The Moto X is possibly the more well rounded though, considering performance, ecosystem and the ability to customize the design.
We feel the video offers an interesting look at the Nokia Lumia 1020 and Motorola Moto X smartphones, so why not check it out below and let us know what you think. You may also want to find out more about both phones and you can do so by looking at our previous articles on the Lumia 1020 here or Moto X here.
If you are considering these smartphones, which will you choose and why? Maybe your choice will be decided by the Windows Phone platform of the Nokia Lumia 1020 or the Android OS used by the Motorola Moto X? Perhaps you're also waiting to see what the upcoming Samsung Galaxy Note 3 and Apple iPhone 5S will offer?