Apple's iMessage down due to iCloud outage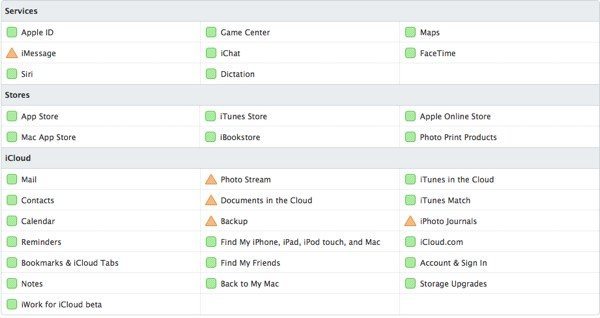 There is currently an ongoing problem with Apple's iMessage being down, due to an iCloud outage. This is also affecting some other services, namely Photo Stream, Backup & Restore, iPhoto Journals, and Documents in the Cloud.
We have checked ourselves and the iMessage service is currently not working for us, although the problem is only said to be affecting a small percentage of users, less than 1%. The iCloud problem has already affected services for several hours and there's no indication of when normal service will be resumed.
On Apple's iCloud system status page we can see that the problem began at about 5:30 am BST /12:30 am EDT and is still ongoing, so that's over 10 hours so far. A message from Apple on the status page details the services down (as above) but doesn't give any clue as to when things may be restored.
It seems there have also been some problems with Apple ID and iTunes over the last few hours, but the down times were shorter and those services are up and running again. Of course Apple points out that the current downtime affects less than 1% of users, but with user numbers in hundreds of millions this is still a significant amount of people.
We know from previous downtimes with iMessage that this can cause real frustration for a lot of people so hopefully Apple is doing all it can to resolve the issue. We'd really like to hear from our readers about this iCloud outage, so do please send us your comments and let us know if your services have been affected or not.