iPhone 5S or 5C in UK, what £80 on PAYG gets you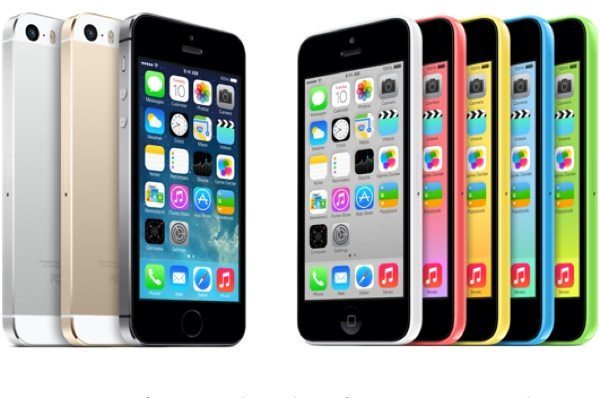 The Apple iPhone 5S and iPhone 5C were both made official two days ago, and both have a release date from September 20. The iPhone 5C was rumored to be a budget iPhone but it's not as cheap as many were expecting. Today we're looking at the iPhone 5S or 5C in the UK and what £80 on PAYG gets you, which is the difference between the prices of the phones.
The iPhone 5C has lesser specs than the 5S and comes in a colorful range of plastic builds rather than the premium design of the iPhone 5S. We previously gave some details of UK pricing for both of the new iPhones, and if you use the 16GB versions of each as an example the price difference is only £80.
The 16GB iPhone 5C is £469 while the iPhone 5S PAYG in UK is £549. If you consider the price difference between the two phones though, you seem to get a lot more for your money if you pay just £80 more and opt for the iPhone 5S.
One of the main factors to consider is that the iPhone 5S has the new 64-bit A7 chip that offers much faster speeds than the A6 processor in the iPhone 5C. The iPhone 5S also features an M7 motion coprocessor, plus you get a better iSight camera. One of the videos below this story shows more on the iSight camera.
Another thing to take into account is that the iPhone 5S also features the brand new Touch ID fingerprint identity sensor, and this is something that a lot of people will appreciate. We've also embedded a YouTube video about the fingerprint reader on the iPhone 5S below this story so that you can see more on this.
If you want to compare the exact specs differences between the two phones then head to the Apple page here. If you want to see much more information on the iPhone 5S or iPhone 5C you can check our articles on each at the links directly above.
All things considered, it seems to us that as far as the UK PAYG price for the iPhone 5S or 5C, it is more than worthwhile to pay the extra £80 to get the flagship 5S, but what are your thoughts on this?
Maybe you prefer the colorful, fun designs of the iPhone 5C and so will still choose this phone? Perhaps you now think it's better to invest £80 extra and get the iPhone 5S? Send your comments with your views.