GTA V iFruit app prompts Android download warning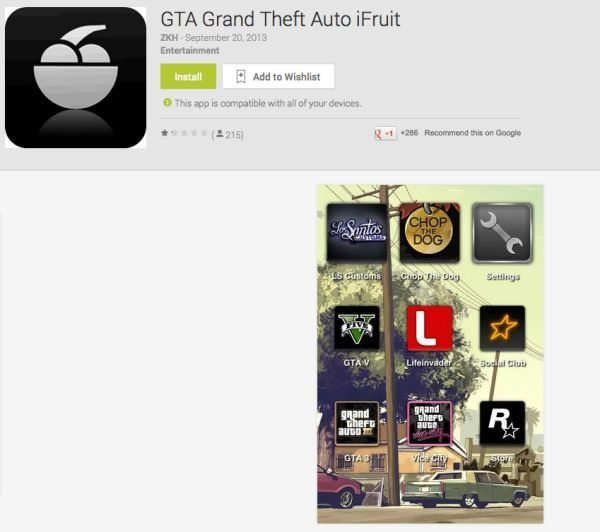 The GTA V iFruit app for Android has not yet been released and users are waiting patiently, but we must stress a few fake applications have made their way onto the Google Play Store and these should NOT be installed under any circumstances.
iOS device users are already using the popular Grand Theft Auto iFruit app, the official app was released by Rockstar Games and until they release it to Android users please DO NOT install any other apps titled GTA iFruit etc.
There have been a few Android apps that have made it onto the Play Store and these have been removed, we have noticed that 'iFruit GTA Grand Theft Auto by ZKH' is still on there and if you read the comments users have clearly stated this is a fake app. To be fair, unless the GTA V iFruit app for Android has been released by Rockstar Games just stay away from other installs.
The iFruit app allows users to customize vehicles within the GTA V 5 as well as taking care of Franklin's best friend, the ability to create an ultimate vehicle in Grand Theft Auto V from anywhere with the game is pure class. It has so many features, we know Android users are waiting patiently for the app and you do not want to read about iOS users have it already, but please do visit here to see what you can look forward to (This is purely to show you what is on offer to Android users once its been released).
The GTA V iFruit companion app release for Android is still not known, we know it is frustrating that users have to wait but please do be patient. PLEASE remember to wait for Rockstar Games to port the app to the Google Play Store; DO NOT download fakes because some could contain malicious malware.
We know majority of Android users are smart enough not to install these fakes, but there are a few out there that do not know.