iOS 7 waterproof hoax explained in videos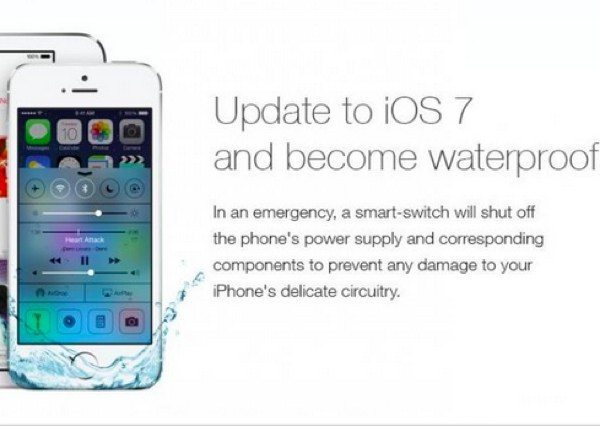 It's difficult to imagine that some iOS device users have fallen for an iOS 7 waterproof hoax. Some of you will have heard about this already, while for others it's a new story. Read on and we'll tell you more and we're also including some funny video explanations about what happened.
Apple's iOS 7 released to an expectant public last week and it didn't take long for some pranksters to come up with a scam about its capabilities. They did so in some style, by producing a fake Apple iOS 7 ad that believe it or not, fooled many people into thinking that their iOS device was now waterproof.
The ad certainly looked the part and was pretty convincing in the way it was done, with a very Apple-like touch. However, the content wasn't as persuasive, at least for most of us. It said that the iOS 7 update now made your iPhone waterproof and that in an emergency the power supply would be shut off therefore preventing any damage from water.
The spoof ad even said that waterproofing was covered by Apple's warranty policy. This led to some people dunking their iPhones in water to test out these new capabilities, and of course they soon found that surprise surprise, their phones were ruined or at least damaged.
Whether some people really thought that a software update could bring this sort of protection for a phone, or whether they simply didn't think long enough about it, there have been plenty of reports about people who were caught out.
Now on to the videos that we promised at the beginning, and you can view two YouTube videos below this story. Be aware though that both contain some swearing, especially the second, so you watch them at your own risk. However, they are extremely funny and highlight what happened, questioning the sense of those who were hoaxed.
While we don't wish to denigrate any of our readers who fell for this hoax, it's pretty unbelievable that anybody did. On the other hand, there are many people who would say that this sort of hoax is out of order, and that there will always be unwitting people who might fall for something like this.
Take a look at the videos and tell us what you think? Do you think the iOS 7 waterproofing hoax was a prank too far? Maybe you think it was an entertaining and humorous spoof and can't believe that some people were taken in hook, line and sinker? Let us know with your comments.