iPhone activation required error hits iOS 7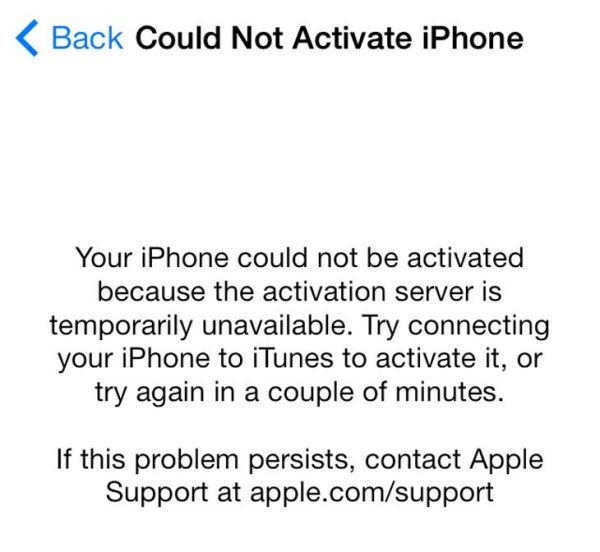 Since iOS 7 was released there have been a few problems, and one of the major ones was to do with iMessage. However, iPhone 4S, 5 users are now getting the iPhone activation required error, which means they are locked out and cannot use their device.
Product Reviews has brought this to our attention after they received an email from an iPad 4 user, they said that they could not activate their device and received an error message. This is when Product Reviews decided to look at their iPhone 4S running iOS 7 beta Gold Master; they also got the iPhone activation error message saying, "Could not activate iPhone".
If you look at the screenshot below via PR, it says in a nutshell that the iPhone could not be activated and the reason for this is because the activation server is temporarily unavailable. To try and fix this problem, users can connect their devices to iTunes to activate, if the issue persists then contact Apple support.
The source above also reports that when you connect the iPhone or iPad to Apple iTunes it will prompt another message, which basically said iTunes not being able to back up the iDevice because a session could not be started, obviously because the iPhone or iPad being locked out.
Phones Review cannot check this because we are not running iOS 7 Gold Master, we are not getting this issue on our iOS 7 public version. We will keep in contact with PR to see if they come up with a solution. This is a problem hitting some betas and those with public releases in some circumstances, Phones Review would love to hear from those that are getting the 'could not activate iPhone' error.
Please let us know if you are running iOS 7 beta software or public release version, we would love to know if you are seeing the activation server temporarily unavailable message?