Samsung Galaxy Note 3 Vs LG G2 video comparison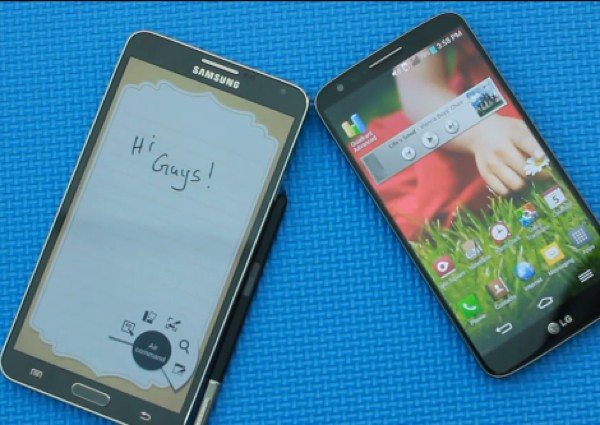 The Samsung Galaxy Note 3 and LG G2 are definitely both two of the top phones right now. If you're considering purchasing a high-end phone any time soon then these two are likely to be on your shortlist. With that in mind we have a Samsung Galaxy Note 3 vs. LG G2 video comparison to show readers.
These are both Android smartphones and we've already brought readers plenty of information about both phones. If you want to find out more about the Samsung Galaxy Note 3 head here, or for the LG G2 head here.
It may be pretty difficult to choose between the Galaxy Note 3 and LG G2 as they both have a lot to recommend them, so sometimes it can be useful to check out a video comparison to see the phones alongside each other. The 8-minute YouTube video below this story gives a good idea of what these phones have to offer.
The video begins with a look at the designs and hardware of both phones. The thing that will be most immediately noticeable is the difference in size, with the Galaxy Note 3 featuring a 5.7-inch display while the LG G2 screen measure 5.2-inches.
It goes on to look at the displays in more detail, as well as other specs such as processors and storage and also benchmark performance results. Cameras are also discussed before the video goes on to look at operating systems and features.
The video concludes with summing up the best points of each phone, but we'll let you check that out for yourselves. Hopefully the video below will give you a good idea of which phone might be the right choice for you.
Are you tempted to purchase either the Galaxy Note 3 or LG G2? If you had to make up your mind right now after watching the video, which would you opt for and why?