Droidcon London 2013 Android fever countdown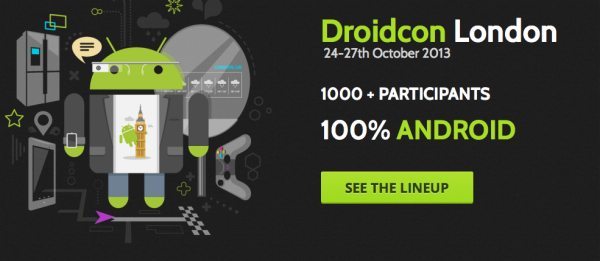 Droidcon is coming to London on 24th-25th October, bringing with it the world's most futuristic Android technology and the leading lights of the Android industry, the Droidcon countdown has begin.
Visitors will be able to test out world firsts like Seraku Corp's smart mirror and wash basin, making its first ever appearance outside of Japan and capable of serving you the morning's breaking news without so much as a touch of the hand.
The creators and pioneers of some of the leading tech in Android will be there including Juhani Lehtimäki, author of "Smashing Android UI", and Hans Dockter, founder of Gradleware – fast becoming the industry standard build system for Android development.
Then there's Dr Chris Bridges, the man who beat NASA at getting a phone into space; the Cyanogen Mod custom operating system for phones that took the Android world by storm; and technology giants including Epson, Sony, Paypal, Intel and Genymobile who'll be showing off Android-powered inventions such as the world's first Android-compatible SmartWatch and smart glasses offering perfectly amplified reality.
Droidcon is already established in a variety of global locations including Berlin, Bangalore, Amsterdam and Paris. Organised by Skills Matter and Wireless Industry Partnership Connector Inc. (WIP) with Novoda providing support as a strategic partner, the events have become the place for bleeding edge industry developments from those crafting the code.
Wendy Devolder, founder and CEO of Skills Matter, said: "Since its conception just six years ago, Droidcon has become the event for the best within the Android industry and it attracts some of the world's best and most enthusiastic technological thinkers. Skills Matter's involvement in this awesome event fits perfectly with our mission to support and drive innovation by bringing smart and creative people together. Every year, Droidcon London gets bigger and better and this year promises to reveal some truly life changing insights and technologies."
This annual conference in the UK's capital will be held from 24-25 October at the Business Design Centre in Islington, and will be followed by a Best-of-the-Best weekend hackathon at Skills Matter from the 26-27 October.