iPad Air vs new Samsung Galaxy Note 10.1, tablet victor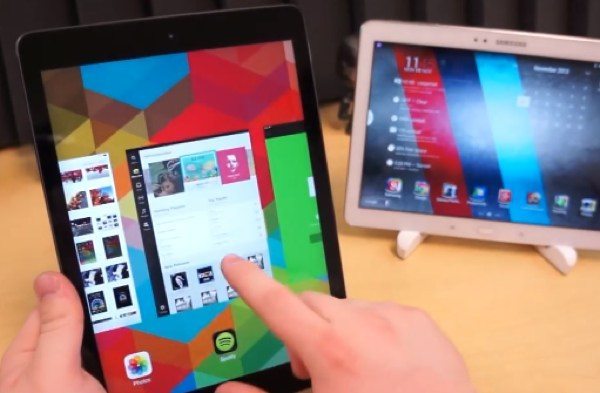 Two of the most popular tablets this holiday season will undoubtedly be the Apple iPad Air and the Samsung Galaxy Note 10.1 (2014). These devices both have top-notch specs and for some people it will be difficult to choose between them. Therefore we have an iPad Air vs. new Samsung Galaxy Note 10.1 video comparison that may help in your decision.
We've written many articles now on both the iPad Air and Samsung Galaxy Note 10.1 2014 Edition. Of course one of the major differences is that the first runs Apple's iOS operating system while the latter runs Android.
This alone may be the deciding factor for many buyers, but if you have an open mind about operating platforms the video below this story will give you a good idea of what both tablets offer. The 11-minute YouTube video below this story is a Pocketnow comparison of these two impressive tablets and asks which is the better buy.
The video starts by looking at the designs of both tablets, showing how similar they are in size although the iPad Air is notably lighter. You'll then see details of some of the major specs and how they compare, including processors and displays.
Next there is some information about the S Pen stylus of the Galaxy Note 10.1 followed by some good detail regarding the software and then performance. Finally the camera set-ups are compared. We won't spoil the ultimate conclusion and verdicts on these two tablets, but one is judged to be more well-rounded than the other.
We feel this video will give viewers a really good overview of both of these two notable tablet devices. Once you've take a look we'd appreciate your comments on the iPad Air vs. Galaxy Note 10.1 2014. Are you about to purchase one of these tablets? Which one will you choose, and why?