iPhone 5S vs Nokia 3310 most ridiculous test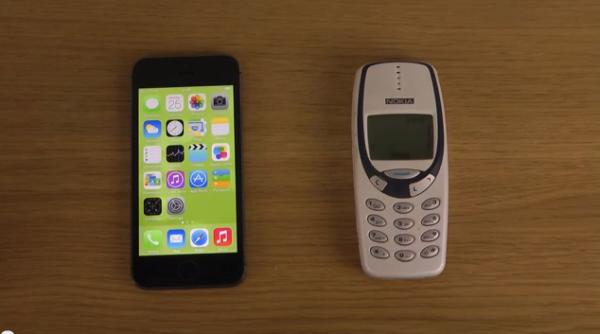 Mobile phone technology has advanced massively over the last few years with ever more powerful and stylish devices being released, and to demonstrate this today we have the iPhone 5S vs. Nokia 3310 in the most ridiculous test.
This may seem a crazy comparison but we found this video via YouTube and wanted to share it with our valued readers. The video is just under 4 minutes long and the iPhone 5S features the latest iOS 7.1 beta 1 operating system, and crazily the reviewer is trying to see if the latest iPhone gives you more speed compared to the 13 year old Nokia 3310.
The test is to see how quickly the two devices shut down before rebooting back up again. Obviously the aging Nokia that was hugely popular back in the day shuts down instantly while the iPhone 5S takes a little longer.
This is repeated with the boot up but that's not surprising considering the Nokia doesn't have that much installed on it, but it makes you wonder if the iPhone 5S will still be working in 13 years time.
Do you think this is a crazy comparison?