Tesco Motorola Moto G back in stock, be quick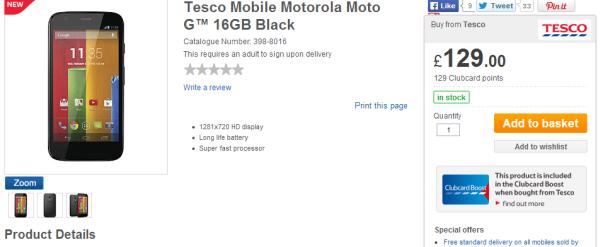 There will be a lot of smartphone fans looking to pick up the recently released Motorola Moto G for its low price and worthy specifications, and today we have news that Tesco has now got more stock available but you better be quick.
The UK retailer first launched the device last week starting at £99 for the 8GB version of the Moto G going up to £129 for the 16GB version, and these low prices quickly saw the device sell out online and in the retailers stores.
Now we have news at the time of writing both versions of the Motorola Moto G are back in stock on the Tesco Direct website and in stores across the country. Obviously at this price stock will quickly run dry again as consumers snap up the device in time for the busy Christmas shopping season.
It has to be remembered though that the Tesco Mobile Moto G is locked to the company's network but it will work for O2 customers as well, but otherwise you will have to get the device unlocked but this will invalidate your warranty so only do this at your own risk.
The handset features a 4.5-inch 720p display powered by the quad core Qualcomm Snapdragon 400 processor clocked at 1.2GHz with 1GB of RAM and the device is running Android 4.3 Jelly Bean straight out of the box. Just to note that the website states sign up for a stock alert but if you click on the individual page it shows in stock for the moment.
Will you purchase the Moto G from Tesco?