Galaxy S4 vs Lumia 1520 camera results compared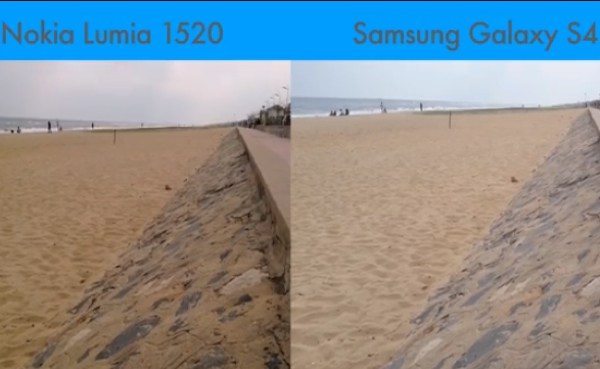 The Samsung Galaxy S4 is an extremely popular Android smartphone while the Nokia Lumia 1520 is a more recently released Windows Phone handset. Both are notable devices and today we have a video to share of Galaxy S4 vs Lumia 1520 camera results compared.
The Lumia 1520 is a camera-centric smartphone with a large 6-inch Full HD display and a notable camera set-up. It has a 20-megapixel rear camera with dual-LED flash, autofocus, Carl Zeiss optics, PureView technology and optical image stabilization, as well as a 1.2-megapixel front-facing camera.
The Samsung Galaxy S4 has a 5-inch Full HD display and camera-wise includes a 13-megapixel rear camera with autofocus, LED flash, image stabilization, and a 2-megapixel front-facing camera. Both the Lumia 1520 and Galaxy S4 also have an impressive array of camera features.
The YouTube video that we've embedded for your viewing convenience below this story starts by showing images captured with the cameras of both of these devices. The images were shot of the same subjects in various conditions, including low light, close-ups, outdoors etc., and are shown alongside each other for easy comparison.
The second half of the video shows video footage taken with the two smartphones. It's an interesting look at how the cameras of the Galaxy S4 and Lumia 1520 stack up against each other and although we have our own opinion on which camera offers the better results, we'd like to hear what you think?
Do you think one of these two smartphones outperforms the other when it comes to camera results? If so, do you feel the Galaxy S4 or Lumia 1520 offers the better camera experience, and is this the same in every condition or do you feel there are mixed results? Let us know with your comments.