Top Samsung Galaxy Note 3 accessory pack with case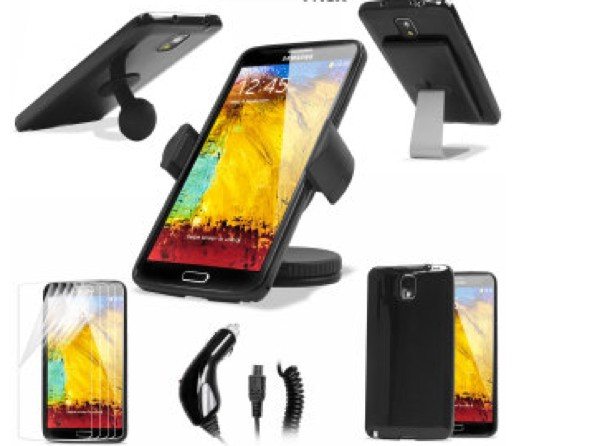 The Samsung Galaxy Note 3 has been one of the dominant Android devices this year and will no doubt remain popular for some time to come yet. There will be many new owners of this phone over the holiday season who are now looking for various accessories for it. Today we have details of a top Samsung Galaxy Note 3 accessory pack that includes a case.
Whether you're a new Galaxy Note 3 owner or purchased the phone on release you may have decided that a case is a good idea, and there are a host of other accessories available. Rather than trawl through the huge amount of various offerings, an accessory bundle could be just what you're looking for.
The Ultimate Samsung Galaxy Note 3 Accessory Pack is great value, contains 6 accessories and is available in many regions worldwide. The lightweight portable accessories include a case, charger and various mounts and each item has been designed to work with the others.
Firstly there's a FlexiShield Cover for the Galaxy Note 3, offering wraparound protection with convenient access for ports and the camera. Then you have 5 MFX Screen Protectors, and using these will give crystal clear viewing while protecting the display from scratches.
There's also a Galaxy Note 3 Car Charger to charge the phone while you're on the move or give it the odd top up. Finally there are three different mounts included. These are a Galaxy Note 3 Car Holder, a Galaxy Note 3 Desk Stand, and a Mini Portable Desk Stand, useful for keeping in a pocket or bag for when you need it.
This Ultimate Samsung Galaxy Note 3 Accessory Pack for $27.49 is in stock right now and you can see more details or order it from Mobile Fun. For the Accessory Pack in Black head here, or for the Accessory Pack in White head here.
These are the product pages and prices for those in the US but if you're in another country simply hit the link at the top right of the Mobile Fun pages above to enter your country and you'll find this accessory pack is available in many other regions. For example this is also available in the UK priced at £19.99.
Are you looking for a protective case and other accessories for your Galaxy Note 3? If you order this accessory bundle for the Samsung Galaxy Note 3 we'd really like to hear what you think of it, so do please drop us a comment via the box below.