HTC Android 4.4 device update status website launched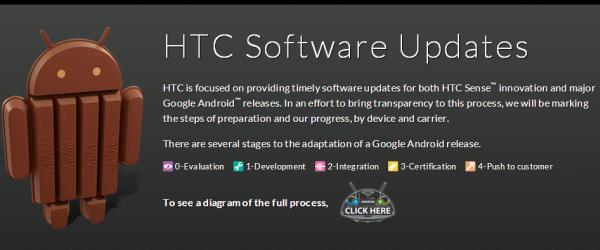 The Android platform has often been criticized for the arduous routine many users have to experience for new firmware updates reaching their smartphones or tablets, and some companies have better records than others. Now a HTC Android 4.4 device update status website has been launched to make things a little clearer for users.
HTC has provided a new website to try and make things clearer for users in understanding the process of providing new updates for handsets and the steps the company has to go through to provide a new version of the operating system.
It shows the Android 4.4 KitKat update status for a number of variants of the HTC One with some already up to date, while some carrier versions are still in the process and waiting for the update to arrive.
There are also a number of other HTC handsets listed along with a detailed infographic with the 12 steps the update process needs to negotiate after leaving Google to reach a users device. The website has a statement from the company telling how it is "focused on providing timely software updates for both HTC Sense innovation and major Google Android releases".
The whole process includes evaluation, development, integration, certification, and release to the user with other hardware such as carrier variants or unlocked handsets using a different process. You can check out the information by heading over to HTC.com and click on the icon to see the diagram explaining the full process.