Wordeo Vine-like message app has Facebook problems: Update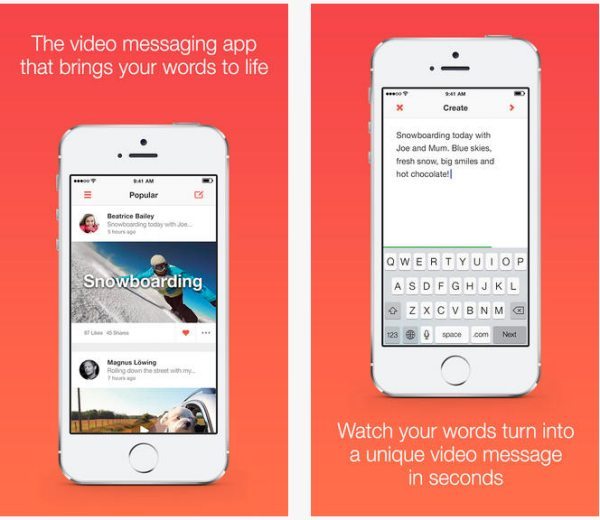 The new Wordeo app is one of those that you will love or hate, this is video message application that is similar to Vine in a way but with 2-second videos that uses your own text words and turns it into a video clip based on those words you used.
Vine allows you to create wonderful 6-second video clips, but you need a lot of time to create these to make them perfect. However, the new Wordeo app is a great messaging app that just uses your own text words that does not need you to film yourself.
It is a simple app that offers a lot, you type in what you want to say and Wordeo will automatically find photo snippets via Getty Images massive library and hey presto you have a short video clip. The good thing about this one once the video has been created you can edit it to add music and so much more, it also adds words like your name into the video if you typed that in.
The music can be set based on your mood, I actually installed Wordeo and creating the videos by simply using text is fantastic, but it comes with serious problems that need ironing out.
You do have to create an account with Wordeo if you wish to share your video creations on social networking sites, to set up you just simply put in your first and last name, email, a password and your age and job done. Do not forget, you have to go to your email and verify account.
Problem One
Once you have created the video it seems to take forever processing, mine has been processing for the last 15 minutes and still not able to edit it if I wanted to. I logged out and then went back in and for some reason in my feed there is another video under my name that has nothing to do with what I created.
Problem Two More of an explanation below –
Sharing with Facebook is a nightmare; I have not been able to do this because I am still stuck on the video processing. I ask around to see if people have been using Wordeo and when they said they have been I asked them this question, "Have you had issues sharing your Wordeo video with Facebook?" 6 out of the 8 people I asked said YES. If you visit iTunes you will see under the app in the reviews section users saying they are having Facebook sharing problems as well.
Are you having any Wordeo app problems?
UPDATE: We just wish to say thank you to the Wordeo team for emailing Phones Review promptly answering the issues mentioned above, here is the email –
We are the PR team for Wordeo and we wanted to get in touch about your recent article:

Firstly, thank you for being one of the first to download and try out the app — your interest and support is very much appreciated. I understand that you've experienced a few teething problems with the app, and wanted to update you on where Wordeo is with fixing these issues / offer explanations —

Facebook sharing issue: we are aware of this issue and are working to resolve it. More information on this can be found in the official response here: http://wordeo.com/help

· Other's content appearing in your feed — we are now aware of this issue and are working tirelessly to resolve it

· For the long processing time stated in 'Problem One' this is not actually a problem of the app. The processing time is dependent on your phones reception or the strength of the Wi-Fi that you are connected to.