Dual SIM Motorola Moto G release nears for some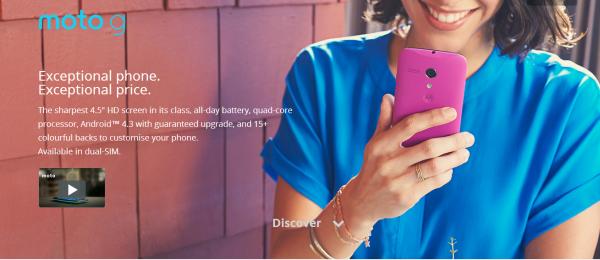 Since its initial launch late last year the Motorola Moto G has proven to be hugely popular and as time goes on the device certainly looks to be providing a major hit for the company, but now it seems as if the dual SIM Moto G release is nearing for some regions.
When the device was officially revealed last year Motorola said that eventually there will be a dual SIM version of the Moto G made available, but information on pricing and availability wasn't forth coming.
Now the image that you can see on this page is from the official Motorola website over in Australia listing the details of the Moto G, as well as stating it is also available in dual SIM. At the time of writing there is no information regarding the handsets pricing and hopefully we will see this version of the handset made available elsewhere.
Besides the option of using an extra SIM card the device is the same handset with a 4.5-inch display at a 720p resolution, and powered by the quad core Qualcomm Snapdragon 400 processor clocked at 1.2GHz and paired with 1GB of RAM.
The device is currently being upgraded to the Android 4.4 KitKat operating system and comes with either 8GB or 16GB of un-expandable storage, and features 5MP and 1.3MP cameras.
Have you been waiting for the dual SIM version of the Moto G?
Source: Motorola via GSM Arena.