Samsung Galaxy S4 vs Note 3 on Android 4.4 speed test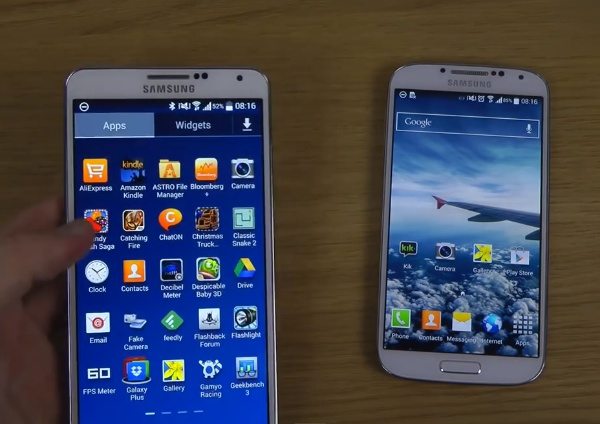 The Android 4.4 KitKat update is slowly rolling out to more devices and Samsung smartphone owners are keenly waiting for it to reach their handsets. Recently we've shown readers previews of Android 4.4 on the Galaxy Note 3 and Galaxy S4 and now it's time to show a Samsung Galaxy S4 vs. Note 3 Android 4.4 speed test.
The Galaxy Note 3 Android 4.4 update recently arrived with some fortunate owners of the device but it could take quite a while for it to roll out to every region and carrier worldwide. A leaked build of the Android 4.4 update was also recently made available for the Galaxy S4, but most owners will choose to wait for this update to start being officially pushed out.
Some people have opted to install the leaked builds of Android 4.4 KitKat though, and recently we showed previews, benchmarks and Internet speeds of 4.4 on the Galaxy Note 3 and Galaxy S4. You can see those articles here and here respectively if you choose.
The next logical step was to compare the start up speed of both of these smartphones running Android 4.4 KitKat. The YouTube video that we have embedded below this article shows exactly that.
First it's pointed out that the Galaxy Note 3 used in this test is using a 2.3GHz Qualcomm Snapdragon 800 quad-core processor while the Galaxy S4 is using a 1.9GHz Snapdragon 600 quad-core CPU. Both are running the latest 4.4 firmware.
The first thing that the video shows is that both devices are now quicker to unlock than with previous firmware. Then the reviewer goes into Settings to show that both are definitely running Android 4.4.2.
You'll then see both handsets being restarted and it's the Note 3 that powers up faster than the Galaxy S4, although to be honest the difference is not too significant. There's also a look at a new feature with the Samsung Music app, which is shown on the Galaxy Note 3.
When you've checked out the video below we'd be interested to hear from you about the Android 4.4 KitKat update for the Samsung Galaxy S4 and Galaxy Note 3. Are you eagerly waiting for this update to arrive for your handset?