Nokia Lumia 1520 Mini speculation after report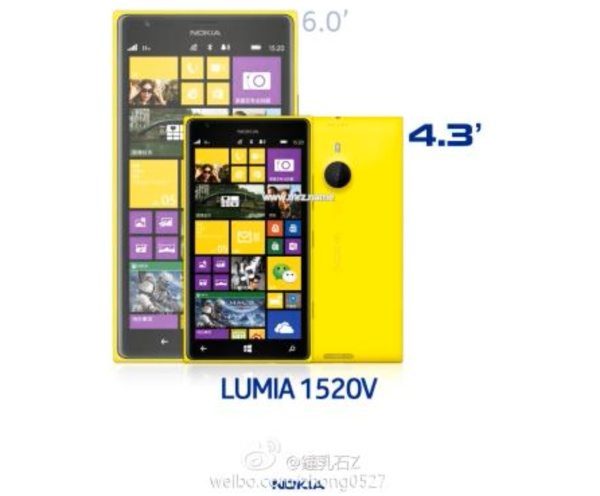 The Nokia Lumia 1520 phablet released in November and has been a much-admired device winning a lot of fans. Now a Nokia Lumia 1520 Mini is being speculated following a report from China. This device could be named the Nokia Lumia 1520V.
The Lumia 1520 was Nokia's first Windows Phone phablet and offers a quad-core Snapdragon 800 processor and Full HD display. Not everybody wants a larger smartphone though and so the idea of a Lumia 1520 mini version could be extremely appealing to plenty of buyers.
A new report claims that the mini Lumia 1520V will have a 4.3-inch display with Full HD resolution of 1920 x 1080, as opposed to the 6-inch screen of the Lumia 1520. Other alleged specs include 2GB of RAM and 32GB of internal storage. The source also provided a leaked render of the phone that you can see below.
The smaller Lumia 1520V is also said to have a 14-megapixel rear camera (the Lumia 1520 has 20-megapixels), a 3000 mAh battery and wireless charging. It's logical to think the Lumia 1520 mini will be running Windows Phone 8.1 as the phone is apparently set to be introduced after the April release of 8.1.
If the Nokia Lumia 1520V sounds like just the phone for you we should urge you not to get too excited yet, as none of the above has been made official at this stage. However, if the report is accurate it might not be too much longer until we see the mini variety of the Lumia 1520 unveiled.
Would you like to see a smaller version of the Lumia 1520 in the form of the Nokia Lumia 1520V? Let us know with your comments.
Source: WPBar (Google Translated)