Samsung Galaxy Gear Verizon update imminent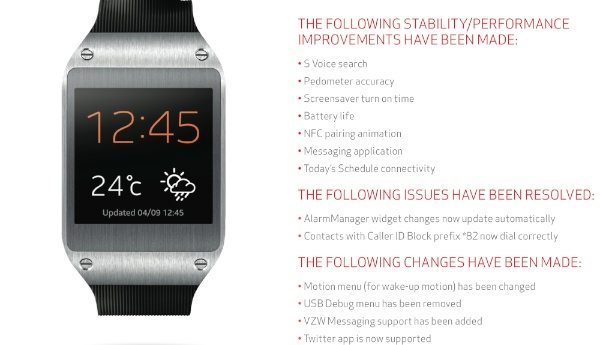 The Samsung Galaxy Gear smartwatch has met with mixed success so far but plenty of people have purchased the device to try it out. If you have the Samsung Galaxy Gear on Verizon then there's some interesting news as a Galaxy Gear update could arrive any time.
Verizon support documents show build V700XXUAMK is incoming for the Galaxy Gear and the carrier touts this as a significant update. It offers a variety of improvements for performance affecting aspects such as battery life, pedometer accuracy, NFC pairing animation, messaging application and S Voice search.
There's also VZW Messaging support with this update, as well as official Twitter app support. However, those of you who like tinkering with your devices may be interested to hear that the USB Debug menu has been removed by Samsung.
The update also includes some bug fixes for issues affecting the AlarmManger and Contacts app. Verizon hasn't specified exactly when the update is coming to the Galaxy Gear but you might want to check your Gear Manager app from time to time.
You can see the full changelog for this software update at this Verizon support page. We'd be interested to hear about the new Verizon Galaxy Gear software update from readers. Have you already received this update for your Samsung Galaxy Gear? If so, what are your thoughts on the changes?