Sony Xperia Z2 vs Lumia 1520 vs iPhone 5S initial low-light test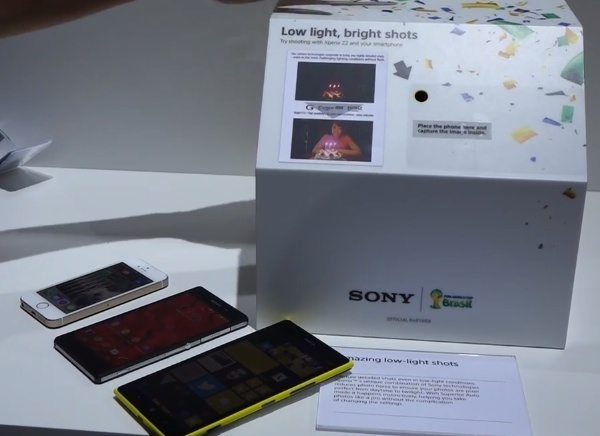 There has been a lot of positivity so far for the just-announced Sony Xperia Z2 flagship smartphone. The device will release in March and there will be plenty of buyers for this high-end handset. Now we have a video to show you of the Sony Xperia Z2 vs. Nokia Lumia 1520 vs. iPhone 5S in an initial low-light test.
The camera set-ups for the iPhone 5S and Lumia 1520 have already been highly praised, so putting the Z2 against these two makes sense. The Xperia Z2 is equipped with a 20.7-megapixel rear camera with Exmor RS sensor, Sony G Lens and BIONZ image processor. One of its numerous shooting modes is for low-light conditions.
Meanwhile the Lumia 1520 has a 20-megapixel rear camera with Carl Zeiss optics while the iPhone 5S has an 8-megapixel rear camera. Both of these have dual-LED flash and all of these handsets have an array of camera features.
At MWC 2014 this week the Sony Xperia Z1 was tested for low-light capabilities along with the Nokia and Apple handsets using a special box devised for such testing. The YouTube video below show this taking place and although the narration is not in English, it's pretty clear to follow.
You can see that all three devices are used one by one, placed against the box and taking a photo of the contents. This box helps to reflect the conditions of low-light shooting, and if you look at the image display on the phones as the pictures are captured you'll note that the Z2 image looks much brighter when compared to the images on the other two handsets.
We should point out that the Z2 being used is a demo handset and the images are only shown on the displays so we cannot come to any assumptions at this early stage. The box used is supposed to simulate dark night conditions, and in this respect the Lumia 1520 and iPhone 5S display images perhaps seem more natural?
Once the Xperia Z2 is released we'll be able to get a more accurate idea of how the camera compares with other notable handsets, but in the meantime we'd like to hear your thoughts on this early low-light look after you've checked out the video below.
Are you impressed by the Sony Xperia Z2, and is the camera one of the reasons you might purchase this upcoming smartphone? Is a good low-light performance important to you on your devices?