iPhone 5S vs Sony Xperia Z2, advantages of each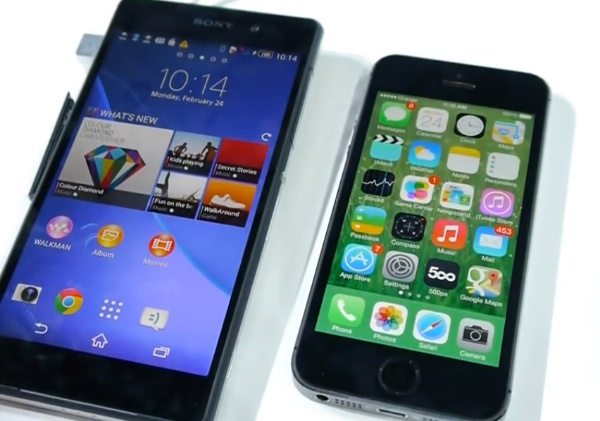 The iPhone 5S is Apple's current premium iPhone releasing last September to a waiting public. Meanwhile the Sony flagship successor to the Xperia Z1 has just been introduced as the Sony Xperia Z2. Today we have a video of the iPhone 5S vs. Sony Xperia Z2 that could help you make a choice if you're considering either of these smartphones.
We won't detail every single spec and feature here but before the video you might like to digest the key specs of each handset. Starting with the iPhone 5S, this is powered by a 1.3GHz Apple A7 dual-core processor, has a 4-inch IPS LCD display with resolution of 1136 x 640 and 326 ppi, 1GB of RAM, and either 16, 32, or 64 of internal storage choices.
It also has an 8-megapixel rear camera with autofocus, dual-LED flash and 1080p video capture, a 1.2-megapixel front-facing camera, 1560 mAh battery, Wi-Fi 802.11 a/b/g/n, and Bluetooth version 4.0. It runs the iOS 7 operating system, recently upgraded to iOS 7.0.6.
On the other hand the Sony Xperia Z2 is releasing this month and has a 2.3GHz Snapdragon 801 quad-core processor, a 5.2-inch IPS LCD display with 1920 x 1080 resolution and 424 ppi, 3GB of RAM, and 16GB of internal storage (expandable via microSD to 64GB).
Other specs include a 20.7-megapixel rear camera with autofocus, LED flash and up to 4K video capture, a 2.2-megapixel front-facing camera, 3200 mAh battery, Wi-Fi 802.11 a/b/g/n/ac, and Bluetooth 4.0. This phone runs the Android 4.4.2 KitKat operating system.
As you can see just from the specs rundown, the Xperia Z2 has some extremely notable specs and will offer the popular iPhone 5S a real run for its money. Looking at specs alone isn't always the easiest way of choosing a phone though, as some factors are more important to individual users than others.
That's where the YouTube video that we've embedded below will come in really useful, as it distinguishes the strongest points of each phone when pitted against the other. It begins with showing the highlights of the Xperia Z2 over the iPhone 5S with a massive 25 aspects listed.
That's around one of the biggest amount of advantages we've ever seen in these types of comparisons. Some of these factors include a much larger battery, stereo sound, more RAM, Wi-Fi Direct, the fact that it's waterproof, micro SD expansion, and faster Wi-Fi ac. We won't list every point as you might like to look at the video for yourself.
The video goes on to show the stronger points of the iPhone 5S over the Xperia Z2, with 11 aspects shown. These include factors such as internal storage choices, dual LED flash, less adware, direct updates, and a fingerprint sensor.
Although the Xperia Z2 appears to have many more advantages than the older iPhone 5S, it's what is important to you in a smartphone that will help you to make a decision. For example if you particularly want a device with a fingerprint sensor the iPhone 5S might be the right pick, but if waterproofing is more important the Xperia Z2 could be the one for you.
When you've taken a look at the video below we'd like to hear your thoughts. If these two smartphones are on your shortlist do you think will choose the Sony Xperia Z2 or the iPhone 5S? Maybe you're also considering other new phones such as the Samsung Galaxy S5? Let us know with your comments.