iPhone 5S iOS 7.1 vs Galaxy Note 3 Android 4.4 browser speeds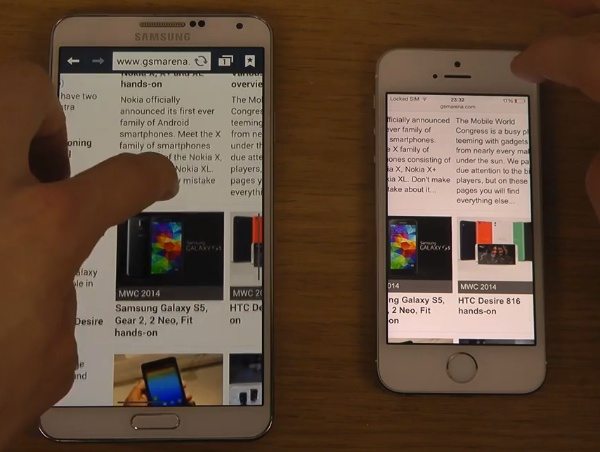 Apple's iOS 7.1 finally released to a waiting public two days ago and yesterday we showed readers an Internet speed test of the iPhone 5S running the new update. It's always interesting to see how the firmware for various platforms compares, and today we have a video that shows the iPhone 5S on iOS 7.1 vs. the Samsung Galaxy Note 3 on Android 4.4 KitKat in a browser speed test.
The YouTube video that we've embedded below from Adrianisen shows both handsets alongside each other with the iPhone 5S running the final build of iOS 7.1 and the Note 3 on Android 4.4. The browsers on each device are opened up with the same website page shown, and loading is slightly quicker on the iPhone 5S.
Going back a page is then notably faster using the iPhone 5S, but swiping up and down a page is much smoother and quicker with the Galaxy Note 3 and there will be many who simply prefer having the much larger display. There are some other interesting observations made on the video so check it out below this story and let us know what you think.