Nexus 7 vs Samsung Galaxy Tab Pro 8.4, cheaper or better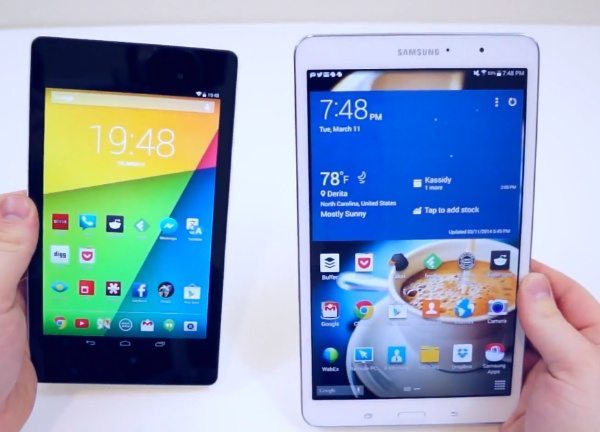 The Samsung Galaxy Tab Pro and Note Pro tablets were recently introduced to the mobile scene and today we're looking at the Nexus 7 2013 vs. Samsung Galaxy Tab Pro 8.4. We've already brought readers a comparison of these that showed the highlights of each device, but if you want a full comparison with much more detail then you might enjoy the video that we are sharing today.
The Nexus 7 2013 aka Nexus 7 2 released last summer and has received plenty of admiration. Key specs include a 1.5GHz quad-core processor, 7-inch display with 1920 x 1200 resolution, and 2GB of RAM, and it comes with either 16 or 32GB of internal storage (non-expandable).
On the other hand the new Galaxy Tab Pro 8.4 is powered by a 2.3GHz quad-core processor, has an 8.4-inch display with 2560 x 1600 resolution, 2GB of RAM and also 16 or 32GB of internal storage, although this time it's expandable via microSD to 64GB.
The Galaxy Tab Pro 8.4 runs Android 4.4.2 KitKat while the Nexus 7 2013 launched on Android 4.3 Jelly Bean, although this is now upgradable to 4.4.2 KitKat. The YouTube video review below comes from the team at Pocketnow and is a chance to get a good look at both devices.
It looks at many aspects of these tablets such as design and build, displays, key specs, software experience, performance, camera capabilities and more. The ultimate conclusion is that any decision between the two might come down to whether you want a more affordable tablet or the superior device, although both have plenty to offer.
When you've checked out the video below we'd be interested to hear your opinions. Would you opt for the cheaper Nexus 7 2013 or the Samsung Galaxy Tab Pro 8.4?