Amazon Sim Free Galaxy S5, HTC One M8 and Sony Xperia Z2 pricing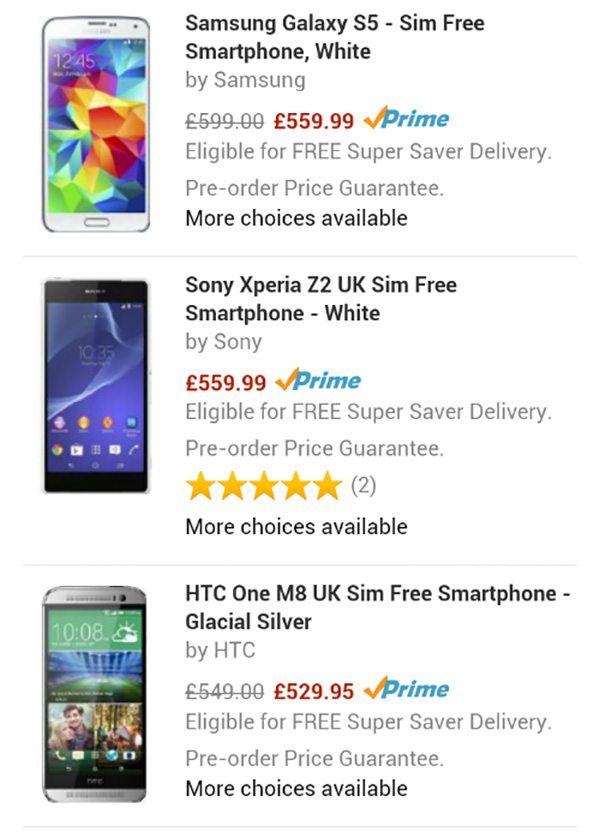 So you're looking to pick up either the Samsung Galaxy S5, the Sony Xperia Z2 or the HTC One M8.
We've already posted deals from other suppliers and now Amazon have published their pricing, look away now they're not cheap!.
The HTC One M8 is the cheapest at £529.95 whilst both the Sony and Samsung flagships will retail for a penny off £560, also known as £559.99, the blue version of the Galaxy S5 is even more expensive at £569.95.
If the HTC One M8 is the one you have your heart set on then you can get it even cheaper by buying the Pay As You Go model from Three. That'll cost you £459.99 with a top up, the device will also come unlocked ready for any other network sim card if needed.
Not cheap right? We did expect pricing of this kind so it matches what most people would be expected to pay for the 3 flagships from HTC, Samsung and Sony.
Will you be picking up any of the devices above? If you are then let us know down below!
Source: Amazon