OnePlus One change of processor and RAM confirmed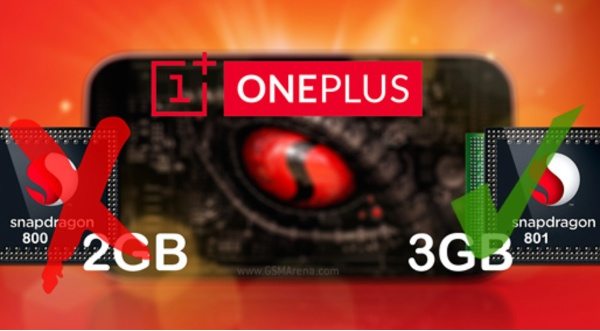 Many readers may have been following developments with the OnePlus One smartphone, and we have news that the Snapdragon 800 processor that had been planned has now been changed for another that will offer an even better performance. OnePlus has also confirmed the RAM for the device and says that the official unveiling is still on track for April 23.
Previously OnePlus had said that the OnePlus One would have a Snapdragon 800 CPU and more recently confirmed a 5.5-inch Full HD display for the device. Today it has been announced that instead of the Snapdragon 800 expected, the phone will instead step up to a 2.5GHz Snapdragon 801 quad-core processor. Not only this, but the Snapdragon 801 SoC being used is the powerful MSM8974AC.
At the same time it was stated that the OnePlus One will have 3GB of RAM, something that many enthusiasts will be pleased to hear. Other specs mentioned so far are a 13-megapixel rear camera and a 3100 mAh battery. Are you pleased to hear confirmation of 3GB of RAM and a Snapdragon 801 processor for the OnePlus One?