Nexus 5 vs Moto X choice for India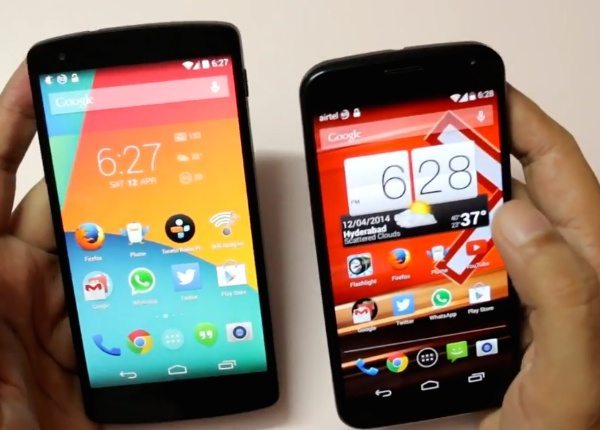 Although the Google Nexus 5 and Motorola Moto X were both released last year, some regions had to wait to see them hit the shelves. For example the Moto X only recently arrived for sale for India and Australia. With this in mind we're bringing you a video comparison of the Nexus 5 vs. Moto X choice for India.
Yesterday we showed readers a review of the Moto X to tie in with its launch in India. Today's YouTube video that we've embedded for your viewing pleasure below this article is an interesting look at what the Nexus 5 and Moto X have to offer, and how they stand up against each other. The reviewer has used both devices as his primary phone and likes them both, and the video begins with a look at the designs of the handsets.
As the review proceeds, preferences are given for many of the different aspects including the displays, processor specs, features, battery life, camera performance, operating systems and more. One area where the reviewer feels the Nexus 5 has an advantage over the Moto X is that it supports wireless charging. The pricing of the phones for the Indian market is also discussed.
After you've checked out the video below we'd really like to know if you now have a preference. Would you choose the LG Nexus 5 or will it be the Motorola Moto X?