Galaxy S5 smashes iPhone 5S launch sales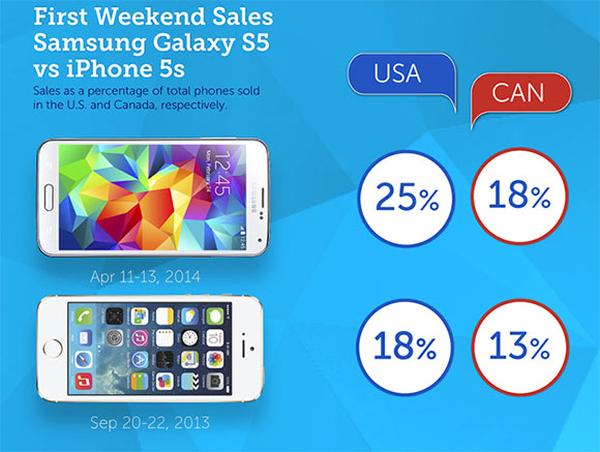 The rivalry between Apple and Samsung shows no sign of slowing down as the two companies' continue to battle it out in various court cases, and the same can be said between owners of hardware from them. Now though some studies have found that the Samsung Galaxy S5 smashes the iPhone 5S launch sales.
A company called iQmetrix that focuses on retail management software for the wireless industry in both the US and Canada has been putting together information gathered from more than 15,000 stores, and has compared the sales figures for the launch weekends for the iPhone 5S and Galaxy S5.
The iPhone 5S figures come from September 20th through to the 22nd in 2013, while the Galaxy S5 come from April 11th until the 13th 2014. The figures show that the S5 got 25% of the smartphone market in the US and 18% in Canada.
This compares to the iPhone 5S that reached 18% of the US market and 13% of the market in Canada over the launch timeframe. Looking at the figures more closely it was found that the Galaxy S5 did better in the south of the US, which accounted for 41% of sales.
It was found unsurprisingly that during the 6 month period before the release of the iPhone 5S that sales of the iPhone 5 dropped away, but this wasn't the case for the Galaxy S4 which experienced an increase in sales during the busy holiday shopping period.
Are you surprised at these claims?
Source: GSM Arena.