Samsung Galaxy Grand 2 vs Galaxy S2 Plus square up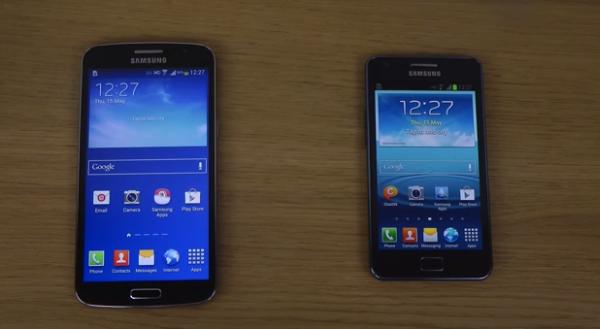 The Samsung Galaxy range of mobile devices is huge with a sometimes bewildering choice of hardware available to consumers, and today the Samsung Galaxy Grand 2 vs. Samsung Galaxy S2 Plus square up in a video comparison.
Both the Samsung Galaxy Grand 2 and the Galaxy S2 Plus have been available for a while now and below this article we have a YouTube video giving the handsets a quick comparison. The video begins by the reviewer stating that in his experience the Galaxy S2 Plus is worse than the original S2 device.
The Galaxy S2 Plus is obviously much smaller than the Galaxy Grand 2 while the smaller handset is currently running Android 4.1.2 Jelly Bean compared to 4.3 on the Grand 2. The display on the S2 Plus is preferred, but the Grand 2 has the much loved faux leather rear finish that was first seen on the Galaxy Note 3.
There is a quick run through the differences of the camera apps on the handsets with the Grand 2 offering a much later version. We get a run through the internal specifications of the two phones as well as a discussion about the price differences.
Do you think there are too many Samsung Galaxy smartphones?