Moto E vs Nokia Lumia 630 Dual SIMs contest for India
The Motorola Moto E and Nokia Lumia 630 are both recent arrivals on the smartphone scene in India and both come in dual SIM versions. These are both affordable devices that you might be considering for your next smartphone purchase, so today we're looking at the Moto E vs. Nokia Lumia 630 Dual SIMs in a contest for India.
One of the distinguishing factors of these phones is that the Moto E is an Android device whereas the Lumia 630 is a Windows Phone handset. Pricing of these phones is not too far apart, although the Lumia 630 is the more expensive of the two. We'll detail the main specs of each so that you can see how they compare.
Processors
The Moto E has a 1.2GHz Snapdragon 200 dual-core processor and Adreno 302 graphics. The Lumia 630 has a 1.2GHz Snapdragon 400 quad-core processor and Adreno 305 GPU.
Display
The Moto E has a 4.3-inch display with resolution of 960 x 540 and 256 ppi. The Lumia 630 has a 4.5-inch IPS LCD display with resolution of 854 x 480 and 218 ppi.
RAM and Storage
There's 1GB of RAM and 4GB of internal storage (expandable via microSD to 32GB) for the Moto E. The Lumia 630 has 512MB of RAM and 8GB of internal storage, this time expandable to 128GB.
Camera set-up
The Moto E has a 5-megapixel rear camera but no secondary camera. The Lumia 630 has a 5-megapixel rear camera with autofocus and also doesn't have a front-facing camera.
Battery
The Moto E has a non-removable 1980 mAh battery while the Lumia 630 has a removable 1830 mAh battery.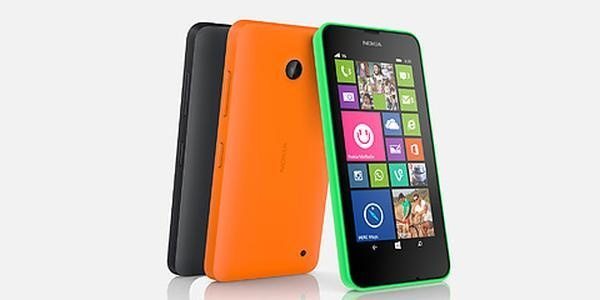 Connectivity
Both phones support 3G, Wi-Fi 802.11 b/g/n, Bluetooth 4.0, GPRS, EDGE, and microUSB 2.0.
Operating System
The Moto E runs the Android 4.4.2 KitKat OS while the Lumia 630 runs Windows Phone 8.1.
Dimensions and Weight
The Moto E measures 124.8mm x 64.8mm x 12.3mm and weighs 142g. The Lumia 630 measures 129.5mm x 66.7mm x 9.2mm and weighs 134g.
Price
The Moto E Dual SIM was officially launched at a very reasonable Rs. 6,999. The Lumia 630 Dual SIM price at launch was Rs. 11,500. However, it can now be found cheaper at various retailers.
On the specs listed here we can see some real swings and roundabouts. For example the Nokia Lumia 630 has the advantage of a quad-core processor, larger display, higher internal storage, removable battery, and is slimmer and lighter.
On the other hand the Moto E display has a higher resolution, and it also has more RAM, a higher capacity battery, and is cheaper. If you already have a preference for the Android or Windows Phone platform it could be easy to choose between them. If not then you might want to go with your favourite design of the two.
If you want to read much more about both of these phones you might be interested in our many other articles on them, for the Moto E here or for the Lumia 630 here. In amongst these posts you'll also find more comparisons of these phones against other popular smartphones.
After considering the above information do you think you will be more inclined to buy the Motorola Moto E or the Nokia Lumia 630? Maybe you also have your eye on another new handset for India?