Samsung Galaxy K Zoom overview on video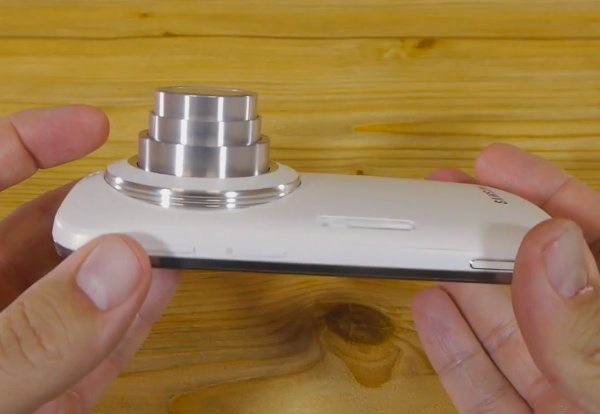 The Samsung Galaxy K Zoom (aka Galaxy S5 Zoom) smartphone was officially launched at the end of April and is this year's camera-centric version of the flagship Galaxy S5. If you're thinking of purchasing this device then you might be interested in a Samsung Galaxy K Zoom overview on video that will give you a good look at the phone and what it has to offer.
We've already shared an initial hands-on video of the K Zoom readers but this latest YouTube video from Phone Arena shows a lot more, and you can view it below this story. It begins with a brief introduction where some of the improved specs are mentioned over last year's version, the Galaxy S4 Zoom, and then goes on to give some impressions about the device.
You'll see some nice-close up looks as the design and build of the phone is discussed, and all-round views of the hardware as well as many specs details. The display is discussed followed by many other aspects such as Samsung's TouchWiz UI, features, and processor performance. As you might expect part of this preview also covers the camera software and camera capabilities (with sample video footage), which is what most people purchasing the K Zoom will be interested in.
One drawback is also mentioned and that is the bulkiness of the phone, although that's par for the course with a handset carrying 10x optical zoom. The reviewer also notes that if you don't need the 10x optical zoom then the difference in camera quality between the K Zoom and other flagship smartphones may not warrant its purchase, leaving it pretty much as a niche device.
When you've checked out the video below we'd be interested in hearing your thoughts on this Samsung device. You might also be interested in a recent video showing the advantages of the K Zoom over its predecessor, and also news that Galaxy K Zoom owners will be privy to an enhanced Vine app. Do you think you will be buying the Samsung Galaxy K Zoom or are you still undecided about this Samsung camera phone?